Controller IC is designed for on-board DC/DC conversion.
Press Release Summary: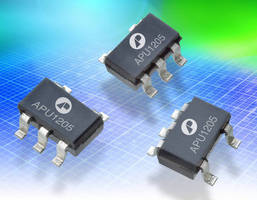 Intended for on-board DC/DC converter applications with designs down to 1.8 V, APU3037-3 synchronous buck regulator features internal 200 kHz oscillator (400 kHz for the A version), UVLO for Vcc and Vc supplies, and external programmable soft-start function. IC comes in halogen-free, RoHS-/REACH-compliant package, operates with single 5 or 15 V supply in fixed frequency voltage mode, and has 500 mA peak output drive capability. Output under-voltage detection is also included.
---
Original Press Release:

New Low Cost Regulator IC for On-Board DC/DC Conversion from Advanced Power Electronics Corp



APU3037-3 synch buck controller IC suits designs down to 1.8V



San Jose, CA…Advanced Power Electronics Corp. (USA), a leading manufacturer of MOS power semiconductors for DC-DC power conversion applications, today announced the APU3037-3 controller IC designed to be a low cost synchronous buck regulator for on-board dc to dc converter applications.



Explains Ralph Waggitt, President/CEO, Advanced Power Electronics Corp. (USA): "Today's ASIC products are migrating down to supply voltages of 1.8V and even lower. If you couple this trend with currents in excess of 3A, the result is that many linear regulators are simply too lossy to be used when the input supply is 5V or even 3.3V. The APU3037-3 together with two N channel MOSFETS such as the AP60T03 can provide a low cost solution for such designs."



The APU3037-3 features an internal 200kHz oscillator (400kHz for the A version), under-voltage lockout for both Vcc and Vc supplies, and external programmable soft-start function as well as output under-voltage detection that latches the device off when an output short is detected. It operates with single 5 or 15V supply in fixed frequency voltage mode and has a 500mA peak output drive capability.



The package is halogen-free and compliant with both current RoHS and REACH environmental requirements for hazardous materials.



Applications include DDR memory source/sink Vtt, graphics cards and hard disk drives, or any other products that require a low cost on board 1.8, 2.5, 3.3 or 5V dc/dc converter.



Full datasheets can be downloaded at www.a-powerusa.com/docs/APU3037-3.pdf.



About Advanced Power Electronics Corp.



Established in Taiwan in 1998, Advanced Power Electronics Corporation has become a leading supplier of MOS power discretes, IGBTs and Power ICs which enable cost-effective efficient solutions for new and existing power applications. The company's wide range of solutions broadly targets the computing, consumer electronics, display, communications and industrial segments. ISO-approved, Advanced Power Electronics Corp.'s commitment to consistent quality assurance and the increased economies of scale has seen the company increase in revenue - trading profitably each year since its foundation - and it has been ranked as one of the world's top fifteen power MOSFET suppliers by iSuppli.



For further information:

Ralph Waggitt,

President/CEO, Advanced Power Electronics Corp. (USA),

Tel: +1 408-717-4231

Email: rwaggitt@a-powerusa.com

http://www.a-powerusa.com



For press enquiries:

Nick Foot

BWW Communications

Tel.: +44 1491-636393

E-mail: nick.foot@bwwcomms.com

More from Agricultural & Farming Products