Controller enables X-by-Wire technology for vehicle networks.
Press Release Summary: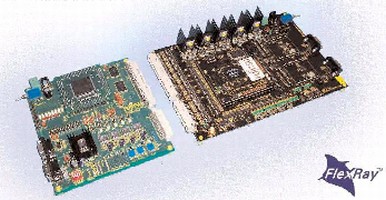 Delivering 10 Mbps over 2 channels, application-specific FlexRay(TM) MB88121 provides fault-tolerant, deterministic data transmission, suitable for engine control, braking, and steering subsystems. It can be connected directly to existing CPUs and complements standard automotive buses, including CAN and LIN. Internal speeds reach 80 MHz with 4, 5, 8, or 10 MHz external oscillator, or by external clock. Parallel interface affords max frequency of 33 MHz.
---
Original Press Release:

Fujitsu Introduces Next-Generation FlexRay(TM) Controller, Enabling X-by-Wire Technology for In-Vehicle Networks



Built Around Bosch IP, New MB88121 Supports FlexRay Version 2.0

SUNNYVALE, Calif., Sept. 13 -- Fujitsu Microelectronics America, Inc. (FMA) today introduced the industry's leading FlexRay(TM) controller, the MB88121, an application-specific standard product that supports FlexRay version 2.0.

Based on IP developed by Robert Bosch GmbH, the MB88121 delivers 10 Megabit per second over two channels. It provides fault-tolerant, deterministic data transmission, which is suitable for the engine control, braking and steering subsystems now being introduced using the FlexRay protocol.

The MB88121 is designed to complement all of the existing standard automotive buses, including the Controller Area Network (CAN) and Local Interconnect Network (LIN). FlexRay-based technology, which can provide approximately 10 times the throughput of CAN, is expected to gradually replace CAN as automakers and their suppliers adopt x-by-wire solutions in new generations of vehicles.

Fujitsu has been a world leader in FlexRay product development, as a member of the FlexRay Consortium, and as the first company to deliver a complete developers' kit designed to enable early-stage application development.

"This new FlexRay communication controller incorporates all the features and capabilities required to spur significant production of FlexRay systems by vehicle makers and automotive-equipment manufacturers," said Keith Horn, senior vice president of sales and marketing for Fujitsu Microelectronics America. "Embedding FlexRay IP into real silicon will allow early adapters to design a range of automotive electronic-control applications at production grade."

The MB88121 can be connected directly to existing CPUs, enabling the development of production systems that use a next-generation network, while simultaneously maximizing the performance of equipment already in the vehicle. Internal speeds reach 80MHz, with a 4, 5, 8, 10MHz external oscillator, or by external clock. The chip's parallel interface affords a maximum frequency of 33MHz.

About the FlexRay Standard
FlexRay is a high-speed serial communication system using point-to-point links over unshielded or shielded twisted pair cable. It features fault tolerance and provides deterministic data transmission at a baud rate of between 500kbps to 10Mbps with a 24-bit CRC. FlexRay is a time-triggered bus, enabling electronic systems to communicate continually in pre-defined time slots.

Fujitsu will maintain its strong commitment to the FlexRay technology by continuing to develop FlexRay enabled components. In 2006, the company plans to begin sampling a new microcontroller with the FlexRay IP built around Fujitsu's FR microprocessor core.

Pricing and Availability
The MB88121 is available now in production quantities with prices beginning under $5 each. It is packaged in an LQFP-64. Fujitsu is now planning a 48-pin version for future release.

About Fujitsu Microelectronics America, Inc.
Fujitsu Microelectronics America, Inc. (FMA) leads the industry in innovation. FMA provides high-quality, reliable semiconductor products and services for the networking, communications, automotive, security and other markets throughout North and South America. For more information about FlexRay products visit us.fujitsu.com/micro/mcu or address e-mail to inquiry@fma.fujitsu.com

NOTE: All product names and company names mentioned herein are the trademarks or registered trademarks of their respective firms.

CONTACT: Emi Igarashi of Fujitsu Microelectronics America, Inc., +1-408-737-5647, or eigarash@fma.fujitsu.com

Web site: fma.fujitsu.com/

More from Packaging Products & Equipment