Controller/Driver Chipset suits VRM CPUs and processors.
Press Release Summary: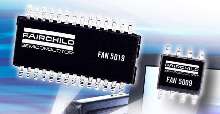 Model FAN5019 multi-phase PWM controller and Model FAN5009 dual MOSFET driver form chipset that is part of VRM/VRD10.x power solution. Temperature-compensated inductor current sensing measures current and accurately sets and maintains loadline. FAN5009/FAN5019 chipset allows regulators to scale from 2, 3, or 4 phases and conveys 12 V main supply into core supply voltage.
---
Original Press Release:

Fairchild Semiconductor's New VRM10.x Compliant Controller/Driver Chipset Offers Scalability While Meeting Power Requirements in Next Generation VRM CPUs and Processors


San Jose, Calif.-March 30, 2004- Fairchild Semiconductor (NYSE: FCS) today announced the FAN5019, a multi-phase PWM controller, and the FAN5009, a dual, high-frequency MOSFET driver. These latest power management products from Fairchild form a chipset that is part of a complete VRM/VRD10.x power solution that meets the stringent power requirements of today's CPUs. The FAN5009/FAN5019 chipset is also scaleable enough to conform to the ever-evolving demands of high-performance microprocessors, which require more current than can be practically supplied by a single-phase VRM.

To meet tight power requirements, Fairchild's new FAN5009/FAN5019 chipset allows the regulator to scale from 2, 3, or 4 phases, and converges a 12V main supply into the highly accurate core supply voltage. In addition, the chipset can deliver up to 140A for the CPU core from a 12V input, providing scalability and power for future VRM10.x processors.

The FAN5019's architecture combines a highly stable, high-speed control loop with active voltage positioning (droop) to meet CPU load transient requirements while minimizing the number of output capacitors and their associated costs. Fairchild's VRM10.x solution uses temperature-compensated inductor current sensing, the current sense architecture recommended by major CPU manufacturers, to measure current and accurately set and maintain the loadline. Most competing products use MOSFET RDS(on) or sense resistors to measure current and set the loadline, a less accurate and more costly option. Fairchild's current sensing method allows the designer to change the FETs, without having to recompensate loadline control circuit values, and it provides tight accuracy at the lowest system cost, unlike competitive products.

"Fairchild's VRM10.x chipset solution meets rigorous power specifications, including tight loadline requirements, while reducing part count and system cost. To further save space and costs in designs, the FAN5009 driver features an integrated bootstrap diode for high-side drive," said Madhu Rayabhari, director of marketing for Fairchild's System Power Group. "The FAN5019 and FAN5009, combined with Fairchild's extensive selection of high and low side power MOSFETs (including the new, high-performance MOSFET BGAs), offer designers a comprehensive single-source for advanced VRM/VRD10.x power supply components."

The FAN5019 is pin- and function backward-compatible with Fairchild's FAN53168 and FAN53180 controllers, and the FAN5009 is pin- and function backward-compatible with the FAN53418 driver. To further increase the reliability of the supply chain, the FAN5019 and FAN5009 are also 100% pin-compatible second sources to the ADP3168, ADP3180, and the ADP3418, respectively.

The FAN5009/FAN5019 chipset also features undervoltage, overvoltage, crowbar and short-circuit protection for enhanced system safety and reliability. Additionally, the FAN5019 takes advantage of dynamic VID technology to allow seamless "on-the-fly" VID changes. Dynamic VID allows the processor to save power by lowering its Vcore voltage while it is running.

The FAN5019 is available in a 28-lead TSSOP package and the FAN5009 is available in an 8-lead SOIC package. Both devices are rated for operation from 0 to +850C and are currently available in volume production.

Price: FAN5019 (28-lead TSSOP): US$ 1.39 (1000 pcs); FAN5009 (8-lead SOIC): US$ 0.60(1000 pcs).

Availability: Now
Delivery: 8 weeks for >100K quantities

Additional information on Fairchild's VRM 10 solution is available at: fairchildsemi.com/whats_new/vrm10.html

For information on other Fairchild products, design tools, and sales contacts, please visit www.fairchildsemi.com.

Datasheets in PDF format are available at:
fairchildsemi.com/ds/FA/FAN5019.pdf
fairchildsemi.com/ds/FA/FAN5009.pdf

About Fairchild Semiconductor:
Fairchild Semiconductor (NYSE: FCS) is a leading global supplier of high performance products for multiple end markets. With a focus on developing leading edge power and interface solutions to enable the electronics of today and tomorrow, Fairchild's components are used in computing, communications, consumer, industrial and automotive applications. Fairchild's 10,000 employees design, manufacture and market power, analog & mixed signal, interface, logic, and optoelectronics products from its headquarters in South Portland, Maine, USA and numerous locations around the world. Please contact us on the web at www.fairchildsemi.com.

More from Electrical Equipment & Systems