Controller directly steps down voltages from 60 V.
Press Release Summary: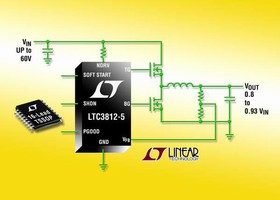 LTC3812-5 high input voltage synchronous step-down switching regulator controller uses single inductor to employ constant on-time valley current mode control architecture. Onboard 1 W gate drivers minimize switching transient losses associated with driving MOSFETs at high frequency and voltage. Devices' 0.8 V reference has ±0.75% accuracy over operating temperature range of -40ºC to +85ºC, and programmable soft-start allows users to adjust start-up time.
---
Original Press Release:

60V Current Mode Synchronous Step-Down Controller



MILPITAS, CA - May 7, 2007 - Linear Technology Corporation announces the
LTC3812-5, a high input voltage synchronous step-down switching regulator controller that directly steps down voltages from 60V to output voltages ranging from 0.8V to 93% of VIN. Using a single inductor, the device employs a constant on-time valley current mode control architecture to deliver very low duty cycles and extremely fast transient response with accurate cycle-by-cycle current limit without requiring a sense resistor. The LTC3812-5's strong onboard 1 Ohm gate drivers minimize switching transient losses associated with driving MOSFETs at high frequency and high voltage. To optimize the size of inductors and capacitors, the switching frequency is selectable from 100kHz to 1MHz.

The LTC3812-5 can be configured for pulse skipping operation to maintain high efficiency at light loads. Its 0.8 volt reference has ±0.75% accuracy over the operating temperature range of -40ºC to +85ºC. The programmable soft-start allows users to adjust the start-up time. Integrated bias control generates gate drive power from the input supply during start-up with the addition of a small external SOT23 MOSFET. Additional features include a power good signal, shutdown, undervoltage lockout and output overvoltage protection. Applications include 48V power conversion in telecom and basestation power supplies, networking equipment as well as automotive, industrial control and avionics systems that must be compliant with high input voltage surges.

The LTC3812-5 is offered in a 16-lead thermally enhanced SSOP package. Pricing for 1,000-piece quantities begin at $3.25 each.

Summary of Features: LTC3812-5
o 60V Input Voltage Operation
o Current Mode Control
o Large 1 Ohm Gate Drivers
o No Current Sense Resistor Required
o Valley Current Mode Control for Extremely Fast Transient Response
o 100kHz to 1MHz Selectable Frequency
o ±0.75% Reference Accuracy over the full -40°C to +85°C Operating Temperature Range
o Selectable Pulse Skipping Operation for High Efficiency at Light Loads

About Linear Technology
Linear Technology Corporation, a manufacturer of high performance linear integrated circuits, was founded in 1981, became a public company in 1986 and joined the S&P 500 index of major public companies in 2000. Linear Technology products include high performance amplifiers, comparators, voltage references, monolithic filters, linear regulators, DC-DC converters, battery chargers, data converters, communications interface circuits, RF signal conditioning circuits, and many other analog functions. Applications for Linear Technology's high performance circuits include telecommunications, cellular telephones, networking products such as optical switches, notebook and desktop computers, computer peripherals, video/multimedia, industrial instrumentation, security monitoring devices, high-end consumer products such as digital cameras and MP3 players, complex medical devices, automotive electronics, factory automation, process control, and military and space systems. For more information, visit www.linear.com

More from Software