Control Unit monitors safety mats.
Press Release Summary: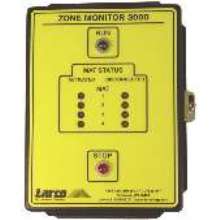 Zone Monitor 3000 provides individual mat status indicators for up to 4 safety mats using LEDs. It offers 2 modes of operation including automatic restart and guard only, and accommodates 120 Vac, 240 Vac, and 24 Vdc power requirements. Field replaceable relay pack lasts more than 500,000 electrical cycles at 1 A. With IP-65/NEMA 12 rated enclosure, control meets or exceeds CE, UL, and CUL safety requirements and is suited for industrial environments.
---
Original Press Release:

New Safety Control Combines Simplicity, Sophistication


BRAINERD, Minn. - Larco, the market leader in safety mat systems for machine safeguarding, has introduced a powerful new safety mat control unit that offers a sophisticated mix of advanced mat system monitoring and simple dependability.

The Zone Monitor 3000, Larco's latest addition to its advanced family of safety mat control units, is designed for the toughest industrial environments. The Zone Monitor 3000 provides individual mat status indicators for up to four Larco safety mats through high-visibility LEDs. In addition, the Zone Monitor 3000 can accommodate a variety of power requirements and is designed to meet or exceed CE, UL and CUL safety system requirements.

Zone Monitor 3000 Features & Benefits

o Combines Sophistication and Simplicity
The first control of its kind to offer the dependability of field-proven reliable technology, while providing the user with diagnostic outputs needed to maintain productivity and reduce downtime

o Advanced Individual Mat Diagnostics
Offers the unique ability to indicate open circuits on individual mats to make diagnostics easier

o Compact Size
Designed for safety mat layouts of up to four mats

o Rugged Design
Suitable for tough industrial environments with an enclosure rated IP 65 and NEMA 12

o Flexible Power Inputs and Operation Modes
Accommodates a variety of power requirements, including 120 VAC, 240 VAC and 24 VDC and offers two modes of operation (automatic restart and guard only) in one unit

o Dependable and Long Lasting
Field replaceable relay pack designed to last more than 500,000 electrical cycles at 1 Amp

o Designed to Meet UL, CE and CUL Requirements
Designed to meet or exceed ANSI B11.19-2003, UL 508-1999, EN 1760-1-1998. Designed to meet Category 3 safety requirements

As part of an industrial safety system that includes Larco presence-sensing safety mats and a variety of trim extrusions, Larco Zone Monitors, including the 3000 and the 5000ex, and Larco's din-rail mountable MAX-series safety relays offer a durable solution to your machine-guarding needs. Larco safety mat systems have earned the reputation of providing a superior product that is not only durable, but is virtually trouble free. Larco products have been used in many applications, including robotic welding, laser welding and cutting, pick and place robots, plastics blow molding machines, assembly machinery, water jet machines, automated material handling, packaging machinery, textile machinery, paper converting machinery, and CNC punches and tube benders.

Headquartered in Brainerd, Minn, Larco has 47 years of experience manufacturing presence-sensing mats. It also manufactures a complete line of automatic door mat products and has built a solid reputation for quality and performance in both arenas. Larco products can be found in major automotive factories, manufacturing facilities, wood milling and finishing plants and other commercial and industrial sites.

For more information on Larco industrial safety products, call 800-523-6996 or visit our Web site at www.larcomfg.com.

Contact:
Joe Schultz
Larco Sales Manager
218-828-5460
jschultz@larcomfg.com
1902 13th Street SE
PO Box 547
Brainerd, MN 56401
phone 218-829-9797
toll free phone 800-523-6996
fax 218-829-0139
toll free fax 800-589-3705
www.larcomfg.com

Related