Control Unit controls and monitors vacuum systems.
Press Release Summary: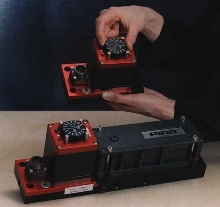 Model AVM 5050 electro-pneumatic unit ensures rapid and safe handling of sheet metal. Unit, controlled via either PC or PLC, has built-in energy saving function and maintains vacuum level, should power outages occur. It can be used with smaller compressed air powered vacuum pumps, but can be provided with integrated pump. Capabilities also include control and measuring of blow-off as well as monitoring of vacuum level.
---
Original Press Release:
New Control Unit For Vacuum Pumps Optimizes Material Management

We are now to see the launch of a new electro-pneumatic unit, the AVM 5050, for controlling and monitoring vacuum systems. Systems in which material is moved with the aid of suction cups.

The unit has been developed by vacuum technology company Piab and shall ensure rapid and safe handling of, for example, sheet metal in order to minimize expensive production stops and rejects within the automotive and white goods industries, among others.

The unit, which can be controlled via a PC or PLC, has a built-in energy saving function and also ensures that the vacuum level is maintained in the event of a power outage.

The AVM 5050 can be used together with several smaller compressed air powered vacuum pumps, but can also be provided with an integrated pump. This is a solution that has been produced in order to meet the automotive industry's high demands on flexibility, reliability, and speed.

"The product, which has been developed in collaboration with automobile manufacturers, includes all the functions required in order to be able to control a vacuum system in, for example, a press or final assembly," says Josef Karbassi, Market Segment Manager at Piab AB in Taby, Sweden. "Together with Piab's vacuum pumps, a vacuum is obtained in a very short time - which minimizes the cycle time and the risk of a handling robot dropping a component. The unit also controls and measures blow-off and continually monitors the vacuum level, which is measured via an analogue output signal and a ready signal from one of the selectable levels."

Built-in Energy Saving Function

According to the manufacturer, the control and monitoring unit fulfils the requirements of the EMC directive, which means that the unit is not disturbed by electromagnetic fields, such as those emitted by welding robots. Neither does the unit affect other electronic systems in its vicinity.

"The AVM 5050 has a built-in function that minimizes the need for compressed air and that is very easy to set," explains Karbassi. "This function, which saves money and reduces environmental effects, rapidly turns off the compressed air supply when the required vacuum is achieved and turns the supply on again in the event of leakage from the suction cups. The AVM 5050 is also very easy to install and use. And all the connectors comply with industry standards."

"The automotive industry often strives for complete solutions with regard to compressed air powered pumps and control systems."

"They can then integrate the control and monitoring unit with our modular vacuum pumps," says Karbassi. "The pumps are based on the latest ejector technology and combine low energy consumption with a high vacuum flow, even with low supply pressures. By reducing the supply pressure, the industry can improve its operating economy via, among other measures, reduced compressor usage."

Piab develops, constructs, and markets products within the field of industrial vacuum techniques. Piab's products are used throughout the world, primarily for material management and production processes within, for example, the packaging and automotive industries, as well as within the graphic and chemical industries.

For further information, please contact:

PIAB USA Inc., Mr. Mike Tuohey, Marketing Communications
Manager

65 Sharp Street, HINGHAM, MA 02043

Tel. +1 781 337 73 09. Fax +1 781 337 68 64

E-mail: mtuohey@piab.com

Website: piabna.piab.com
More from Fluid & Gas Flow Equipment