Control Transformer offers multiple fusing options.
Press Release Summary: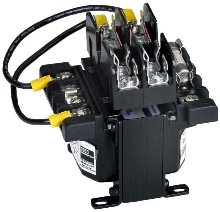 SBE industrial control transformer features fusing solution comprised of WA option of 2-pole, primary fuse holder for Class CC fuses with secondary fuse holder that accepts type 3AG or equivalent glass fuse. WB option uses same primary fuse holder, and secondary fuse holder accepts type FNM or equivalent fuse. Offered in preassembled units from 50-1,000 VA, product features solid epoxy encapsulation, interleaved copper windings, and electrical grade steel laminations.
---
Original Press Release:

Sola/Hevi-Duty Introduces New W Fusing Solution for Popular SBE Control Transformer


ROSEMONT, IL, April 4, 2005 Building on the success of its best-selling SBE encapsulated industrial control transformer, Sola/Hevi-Duty today announced a new version of the SBE featuring a factory installed "W" fusing solution comprised of a two pole primary Class CC type fuse holder and a secondary Midget type fuse holder. Alternate secondary fusing (type 3AG Glass) can also be ordered separately.

With the launch of the new W fusing solution, Sola/Hevi-Duty now offers system designers multiple options for fusing the SBE, including the current WA and WB. The WA option is a two pole, primary fuse holder for Class CC fuses with a secondary fuse holder that accepts a type 3AG or equivalent glass fuse. The WB option uses the same primary fuse holder and includes a secondary fuse holder that accepts a type FNM or equivalent fuse. The addition of secondary fusing allows the use of larger primary fuse sizes to prevent nuisance tripping.

"By broadening the breadth of the SBE's fusing options, Sola/Hevi-Duty has extended the designer's ability to customize systems to meet specific application needs, while reducing the expense and time associated with fuse installation," said Mike Johnson, Director of Marketing, Sola/Hevi-Duty, who noted that this extra flexibility also helps customers comply with UL Standards and National Electric Code requirements for proper primary fusing on the input of all control transformers.

Sola/Hevi-Duty SBE industrial control transformers feature a solid epoxy encapsulation to facilitate more efficient heat dissipation for cooler operation. Other key features include copper, interleaved windings; electrical grade steel laminations; and a 105 degree C insulation system. Preassembled unit ranges from 50 VA up to 1000 VA.

Pricing and Availability

Sola/Hevi-Duty SBE transformers with the W fusing solution are available for immediate shipment with list prices starting at $56.93. They are backed by a 10 + 2 year warranty.

For more information, contact Sola/Hevi-Duty, 9377 West Higgins Road, Rosemont, IL 60018. Call toll-free at 1-888-377-4384, or visit www.solaheviduty.com.

ABOUT SOLA/HEVI-DUTY

Sola/Hevi-Duty specializes in identifying and providing industrial power quality solutions including power supplies, transformers, UPS, surge suppressors, power conditioners, and power quality equipment. It is a member of the EGS Electrical Group, and is headquartered in Rosemont, Illinois.

®2005 EGS ELECTRICAL GROUP. All product names and trademarks belong to their respective owners. Information in press releases, including without limitation product prices, specifications, and contact information, is current on date of the release, and is subject to change without notice. Reseller prices may vary.

More from Cleaning Products & Equipment