Control Platform speeds automation systems development.
Press Release Summary: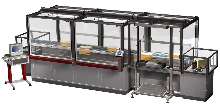 With modules that provide for reconfiguration, expandability, and future change flexibility, SAM(TM) SmartAutoMotion(TM) Platform shortens development time of implementing turn-key manufacturing automation systems. Intelligent transport system provides working method that allows users to manage production flow with non-serial operations with full traceability. Platform is based on rail systems, multi-axis pallets, enclosures, control systems, and pick-and-place mechanisms.
---
Original Press Release:

MARSILLI Introduces SmartAutoMotion(TM) (SAM)(TM) Platform to Speed Automation Systems Development


OWINGS MILLS, MD - December 22, 2003 - MARSILLI North America is set to help integrators and manufacturers shorten the development time of implementing new turn-key manufacturing automation systems. With a proven collection of pre-designed modules that provide practical reconfiguration, expandability and future change flexibility, the SAM SmartAutoMotion Platform was conceived to be a cost-effective solution for many advanced automation requirements.

MARSILLI, with 60 years of innovation in coil winding, realized an opportunity to expand into many other markets where precision assembly and highly flexible tooling change over would be valued. With a wide potential of application possibilities, MARSIILI's SmartAutoMotion Platform is not only an advanced transport system, it is a working method that allows manufacturers to manage production flow with non-serial operations (for QC or other events) with full traceability.

The SAM Platform begins with the SMARTpallet, an intelligent transport system with below surface 1, 2 or 3-axis motion and on-board controls. With programmability, bi-directional travel, speed and a diverse line of accessories, the transport pallet can change paths with maximum flexibility. Smooth and fast accelerations also make the SMARTpallet appropriate for liquid transport. Additionally, each SMARTpallet can work independently or in concert with other SMARTpallets through wireless communications.

Two product lines of SAM Platform components are available: MicroMega, developed for coil winding automation applications, and Expandia, for general-purpose automation. Both solutions are based on standardized components which include robust rail systems, precision multi-axis pallets, enclosures, control systems and pick-and-place mechanisms, ready for integrators and manufacturers to develop their own processes.

SAM modules can be supplied complete with automation control PLC, or only with the SMARTpallet controller. Whether one elects to manage both process flow and automation by the SAM Platform, or manage all production units by preferred PLC, the SAM Platform will be able to evolve according to a manufacturer's need.

Because many of today's processes are not just serial, equally timed events, the SAM Platform may provide the speed, precision and mixed-product runs that modern manufacturers require.

Contact Marco Camardella, president of MARSILLI North America for more information at 410-654-2425 or visit their web site at marsillina.com.

Related