Control Module provides real-time control execution.
Press Release Summary: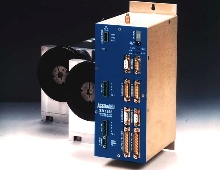 Model SB1292D Control Module offers dual-axis control for brush, brushless (AC servo), and AC induction motors. Rated at 120 Vac (direct off line), it combines programmable motion control and all-digital drive. Multiprocessor, distributed-control design has 20 MHz Intel processor for task management and dedicated 80 MHz SB2500 Servo Processor per axis. Software offers dual-loop control, master/slave mode, and Position Event Generator (PEG) function.
---
Original Press Release:
New Offering Combines Motion Controller with Digital 500W Drive in Powerful, Cost-Effective Package

The SB1292D Control Module offers dual-axis control for brush, brushless (AC servo) and AC induction motors

MINNEAPOLIS: 22 April 2002 - The SB1292D is the new 120 VAC (direct off line) version of the proven SB1292 dual-axis control module. The SB series is a cost-effective combination of advanced programmable motion control and an all-digital drive, and is the most recent addition to ACS-Tech80's family of packaged control solutions. The SB Series has a multiprocessor, distributed-control design with a 20MHz Intel processor for high-level task management and a dedicated 80MHz SB2500 Servo Processor per axis for real-time control execution. This architecture ensures that speed and accuracy are not compromised as more axes are added. The universal drive is software configurable for DC brush, AC Servo (AC synchronous) and AC induction motors and features automatic sinusoidal commutation setup for any three-phase motor. The manufacturing process is IS09001 certified and the controller is CE marked, meeting stringent safety, quality and EMC standards.

Software Features:

Dual-Loop Control: This feature supports two encoders (per axis), one mounted on the motor and the other on the load. This improves accuracy for belt-driven and lead screw-based applications.

Master/Slave: This mode is characterized by its following accuracy, superimposed move capability, ability to switch "on-the-fly" from slave mode to velocity mode and vice versa through comprehensive software support. This feature has proven itself in challenging applications such as industrial flying shears, coil winding, multi-color printing and high-accuracy scanning and plotting.

Registration: This feature allows the destination position of the axis to be changed on-the-fly based on the position of an external sensor captured during a move. The registration modes have a variety of uses including labeling and high-speed printing. The 'Search-For-Contact' registration mode is specifically designed for pick and place applications such as wire bonding, die attachment and SMD assembly.

Position Event Generator (PEG): The PEG function generates real time, position-triggered output to activate external events based on position. It has a position compare accuracy of +/- 1 count at up to 5 million counts/second, and is designed for such demanding applications as high accuracy laser cutting.

Software Tools: A suite of Windows-based development tools is provided for setting up and tuning the modules and developing applications programs. Comprehensive C, C++ and Visual Basic libraries are available for DOS, Windows 3.lx/95/98/NT/2000 and Linux.

Hardware Features:



Power: D version: 120 VAC (60-180VDC) / 6.0A (12A peak)

       B version: 24-60VDC (18-45VAC) / 7.5A (15A peak)



Position Feedback: 2 encoders / channel (+3 Halls), resolver (12 bit resolution).

Inputs: 5 safety, 2 home, 16 digital, 2 analog

Outputs: 16 digital, 2 analog, 2 PEG
Communication: RS23214221485 serial connection, up to 57,600 baud. CAN interface with CANopen protocol support optional.

The SB1292 offers comprehensive safety, diagnostic and protective features. Automatic routines can be programmed for each fault, error or exception occurance, and a 7-segment display shows error and status messages. Separate power supplies are provided for the control logic section and power section.

ACS-Tech80 develops produces and markets multi-axis motion controllers and control modules (motion controllers with integrated digital drives) for original equipment manufacturers, such as semiconductor manufacturing equipment, electronic assembly and testing systems, medical scanners, packaging systems and digital printing machinery.

For more information, contact:

Evan Reed (800)-545-2980

evanr@acs-tech80.com
More from Mechanical Power Transmission