Control Module brings smart features to small vehicles.
Press Release Summary: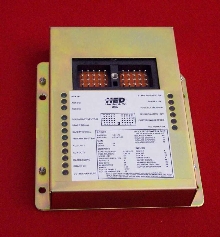 Model CL-410 has 8 total inputs, including one frequency or digital input for load control functions, and 7 analog or digital inputs. As single board controller, it offers load shedding and safety interlock features to prevent damage from activity. It delivers proportional control to machine's hydraulics, controls starter and fuel solenoids, and manages interface to ignition key. Model CL-410 uses SmartFETS for diagnostic feedback and has built-in CAN capabilities.
---
Original Press Release:

Module Brings Smart Features to Small Vehicles


For More Information Contact:
Jimi Hall/262.673.9450

(Hartford, WI) A recently introduced module by HED Inc. enables forestry/logging equipment, agricultural machinery, forklifts, excavation and other smaller self-propelled vehicles or tow-behind apparatus to offer safety interlocks, load shedding and a host of other features.

As a single board controller, the new CL-410 control module delivers capabilities going beyond typical electronic components, unthinkable for standard components within confined chassis. Notable is the ability of the module, resident in the software, to provide load control. For example if a machine is operating a drill or a saw, should the user try to push the work the system will override the action and slow down the RPM's to protect the engine.

A safety interlock feature can prevent damage from activity such as a boom swinging too far. The CL-410 can also provide proportional control to the machine's hydraulics, control the starter and fuel solenoids and manage the interface to the ignition key, plus other functions.

For greater reliability, the CL-410 uses SmartFETS for diagnostic feedback. But unlike other electronic design approaches the CL-410 uses no relays or fuses, making the component suitable for very tight spaces.

The CL-410 has built-in controlled area network (CAN) capabilities, enabling it to serve as a "slave" module on larger multiplexed CAN Buss systems.

An array of contacts on the module allows designer options. The module has eight total inputs, including one frequency or digital input for load control functions, and seven analog or digital inputs. The 14 total outputs include four low amp outputs and ten higher amperage outputs. For easier manufacturing the CL-410 has a Deutsch DRC 40-pin connector.
HED is a leading supplier of state-of-the-art electronics for truck, vehicle, and off-road machine applications. Contact HED for a free copy of the new brochure on the expanded CANLink family.

More from Agricultural & Farming Products