Servo Motor Controllers and Drives
Control measures nip force on paper machine winders.
Press Release Summary: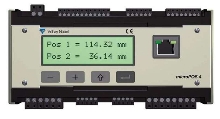 RCS-microPOS digital servo control reeling system is used to adjust primary arms relief cylinders to correct linear nip force on paper machine winders. Utilizing load cells to measure and control force, unit operates cylinders with full control of position, speed, and acceleration. Operation is carried out via digital inputs from PLC or directly from operators console, while force set value is generated either internally or from computer via Modbus.
---
Original Press Release:

Vishay Nobel RCS-microPOS Digital Servo Force and Positioning Control Reeling System Uses Specially Designed Load Cells, Provides Closed-Loop Control


System Measures and Controls Nip Force on Paper Machine Winders

MALVERN, PENNSYLVANIA - March 21, 2005 - Vishay Intertechnology, Inc. (NYSE: VSH) announces the availability of the Vishay Nobel RCS-microPOS, a true digital servo force and positioning control reeling system that is used to adjust the primary arms relief cylinders to the correct linear nip force on the winder of paper machines.

The system measures and controls the actual nip forces using specially designed load cells, rather than inferred forces from cylinder pressures, and control is true closed-loop. Most types of paper machines that use a single drum winder can be retrofitted. The microPOS is easily configured either at delivery from the factory or during commissioning.

Control during operation is carried out via the digital inputs on the RCS-microPOS from a PLC or directly from the operators console. The force set value is generated either internally in the module or comes from a master computer via Modbus.

The RCS-microPOS operates the cylinders with full control of position, speed, and acceleration. When the cylinders approach the spool, their speed is automatically reduced and the switchover to force control takes place gently and under full control. There is automatic weighing of the spool in the primary arms and amongst the other benefits of using this system is the fact that parallel transfer to force control minimises side shifting of the web. Furthermore, the system calculates the primary arms angles and adjusts the relief to the correct linear force.

Commissioning and service are carried out using a software program in a PC, which is connected to the RCS-microPOS via RS232. All parameters for the configuration of the RCS-microPOS are arranged hierarchically and are easily accessible via the program. The system setting of the parameters ensures easy installation and these settings can be saved to the PC disc and reloaded whenever necessary. All data in the module is stored in EEPROM, which retains the data even during periods of power failure. The system menu provides for the quick checking of the system status during operation and service.

Both traditional nozzle/flapper servo valves and direct-driven valves can be used with the microPOS electronics, built into a wall mounting enclosure as standard.

Vishay Nobel, which specializes in the design and manufacture of industrial weighing, force, and pressure measurement systems, has over thirty years of experience in designing and supplying systems for worldwide markets. The product range includes load cells, force and pressure transducers, instrumentation (such as indicators and transmitters), and application software.

Vishay Nobel is part of the Vishay Transducers division of Vishay Measurements Group. Vishay Measurements Group develops, manufactures, and markets a broad range of sensors for a wide variety of test and measurement applications. These include electrical resistance strain gages for both stress analysis testing and transducer manufacturing applications, instrumentation, hybrid strain gage assemblies and transducers for OEM applications and certified load cells for electronic scales and other weighing applications. Vishay Measurements Group is part of Vishay Intertechnology.

Vishay, a Fortune 1,000 Company listed on the NYSE, is one of the world's largest manufacturers of discrete semiconductors (diodes, rectifiers, transistors, optoelectronics, and selected ICs) and passive electronic components (resistors, capacitors, inductors, and transducers). The Companys components can be found in products manufactured in a very broad range of industries worldwide. Vishay is headquartered in Malvern, Pennsylvania, and has operations in 17 countries employing over 25,000 people. Vishay can be found on the Internet at www.vishay.com.

Technical Contact:
Amanda Summers
Vishay Measurements Group
Tel: + 44 (0) 29 2055 5093
Fax: + 44 2079 00 22 98
amanda.summers@vishay.com
David Viney
Vishay Nobel Ltd
Tel: + 44 (01234) 220800
Fax: + 44 (01234) 325387
David.Viney@vishaymg.com


More from Cleaning Products & Equipment