Contour Projector has error-minimizing optical design.
Press Release Summary: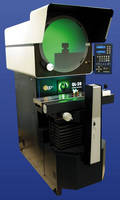 Floor model 20 in. Horizontal Contour Projector®, QL-20(TM), features monochromatic green LED TruLight(TM) illumination and offers variable intensities for optimal lighting at any magnification. Footprint and vertical design allow large screen inspection in less than 17 ft² space, while Geometric Measuring Processor with dual LCDs and keypad provides extensive tools for geometric measurements. Other features include 20 in. dia screen and 32 x 8 in. worktable that supports 550 lb.
---
Original Press Release:

OGP 20" Contour Projector Advances Comparator Technology While Delivering Proven Performance



Optical Gaging Products (OGP®) announces a technological innovation for its popular floor model 20" Horizontal Contour Projector®, the QL-20(TM) - a high brightness, long life, low energy LED profile light.

The latest QL-20 features innovative LED TruLight(TM) illumination, a world-first use in optical comparators. A high-brightness monochromatic green TruLight LED profile light is standard on all new QL-20s. TruLight LEDs offer variable intensities for optimal lighting at any magnification, and provide tens of thousands of hours of service while consuming only a fraction of the energy required for traditional illuminators.

The QL-20 features a generous 20" (508 mm) diameter screen, with a high capacity worktable to handle a broad range of parts. Its small footprint and vertical design allows large screen inspection in a relatively small floor space - less than 17 ft2. QL-20 offers large, bright images on a flat field screen for reduced operator eyestrain. Screen images are upright and unreversed, reducing visual confusion and aiding productivity.

QL-20 ergonomics are excellent. Controls are in natural positions, easily at hand for fatigue-free operation. The bright screen and digital readout displays are located conveniently at eye level, making it easy to visually scan back and forth between them. The in-line design of the worktable provides operators with easy access to mounted parts and fixtures.

Like all OGP Contour Projectors, QL-20 optics are of the highest quality. Lenses are truly telecentric in design, ensuring image accuracy and an image size that does not change with the focus position.

QL-20 includes an extensive list of standard features. The integral Geometric Measuring Processor with easy-to-read dual LCD displays and easy-to-reach shop-hardened keypad provides extensive tools for a number of geometric measurements. Automatic lens magnification sensing provides for error-free measurement scaling with every magnification change. The heavy duty, high precision 32" x 8" (813 x 200 mm) nickel plated worktable can easily support 550 lbs (250 kg). DC servo variable-speed motor drive with joystick control delivers smooth, quiet, fast worktable motion.

Even with such a large range of standard features, options are available. OGP Projectron(TM) internal automatic edge detection ensures repeatable measurements from operator to operator. The worktable provides ±7½° of helix motion. Automate the QL-20 with software packages including eChek(TM) metrology software and SmartReport® powered by QC-Calc(TM) report writer. Or use eCAD(TM), a new electronic overlay package that allows a CAD model to project a profile tolerance band onto the comparator screen. With eCAD, profile tolerance bands may be exaggerated and coupled to the part image for semi-automatic inspection, virtually eliminating the need for traditional overlay charts.

QL-20 will be featured at IMTS 2010, in OGP Booth E-5525. For additional information on QL-20 or any of the OGP metrology solutions, contact Optical Gaging Products, Inc. at (800) 647-4243, www.ogpnet.com or email at info@ogpnet.com.

Optical Gaging Products is an innovator in non-contact and multisensor dimensional measurement systems, optical comparators, and laser surface scanners for manufacturing quality control. Since its establishment in 1945, OGP has delivered thousands of measurement systems to manufacturing companies worldwide. OGP has facilities in Rochester, NY; Tempe, AZ; Singapore; Germany; Bangalore, India; and Shanghai, China. Optical Gaging Products is one of the Quality Vision International companies.

More from Electrical Equipment & Systems