Continuously Variable Beam Expander is available for 355 nm.
Press Release Summary: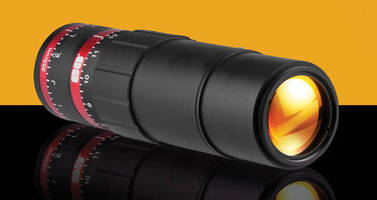 TECHSPEC® Variable Beam Expanders offer continuous magnification for high-power laser applications where magnification changes may be required. With 2X–8X magnification range, 355 nm wavelength model is suited for UV laser machining. Diffraction limited performance with λ/4 transmitted wavefront is standard, and high laser damage threshold anti-reflective (AR) coatings ensure maximum transmittance while minimizing ghost reflections.
---
Original Press Release:

New TECHSPEC® 2-8X Continuously Variable Beam Expander Suitable for 355nm



TECHSPEC® Variable Beam Expanders now available for 355nm with 2X - 8X magnification range



Edmund Optics® (EO), the premier provider of optical components, introduces a line expansion for their TECHSPEC® Variable Beam Expanders. These versatile beam expanders offer continuous magnification for high power laser applications where magnification changes may be required, including prototyping or research and development.



TECHSPEC Variable Beam Expanders are now available in 355nm wavelength with 2X - 8X magnification range  and are particularly suited for UV laser machining. This new model is in-stock and available for immediate delivery for fast turnaround and excellent value.



Diffraction-Limited Performance

These UV Beam Expanders feature diffraction limited performance with a guaranteed λ/4 transmitted wavefront. High laser damage threshold anti-reflective (AR) coatings ensure maximum transmittance, while minimizing ghost reflections



Continuous Magnifications of 1-3X and 2-8X are available

TECHSPEC Variable Beam Expanders are available in two different magnification ranges - from 1-3X or 2-8X - for common Nd:YAG wavelengths 355nm, 532 nm, 1064 nm, or broadband visible wavelengths. Custom fixed magnification requirements and wavelengths can also be accommodated.



Visit http://www.edmundoptics.com/vari-beam to learn more about the TECHSPEC Variable Beam Expanders.



About EO:

Edmund Optics® (EO) is a leading producer of optics, imaging, and photonics technology for R&D, electronics, semiconductor, pharmaceutical, biomedical, and military markets around the globe. EO is the world's largest supplier of off-the-shelf optical components. Customers can purchase items by contacting EO at 1-800-363-1992, via the catalog, or via the website at www.edmundoptics.com



Company Contact: 

Kirsten Bjork-Jones

Director Global Marketing Communications

Edmund Optics®, Inc.

101 East Gloucester Pike

Barrington, NJ 08007 U.S.A.

Phone: 1-800-363-1992

Fax: 1-856-573-6295

email: kbjork-jones@edmundoptics.com

More from Controls & Controllers