Continuously Self-Testing GFCI exceeds 2015 UL requirements.
Press Release Summary: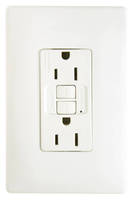 Pass & Seymour® Self-Test GFCI tests itself every 3 sec. Upon failure, red light flashes to indicate need for device replacement. SafeLock™ Protection feature automatically disconnects power to receptacle if it detects that critical components are damaged and protection is lost, and automatic shutter system helps prevent improper insertion of foreign objects. Tamper-resistant device is available as 15 A/125 V or 20 A/125 V duplex receptacles, both with dual-direction test and reset buttons.
---
Original Press Release:

A New GFCI that Self Tests Every Three Seconds from Legrand®



New Pass & Seymour® Self-Test GFCI Receptacle Exceeds New 2015 UL Requirements



SYRACUSE, N.Y. — Legrand, a leading provider of electrical wiring devices and home systems, today announced the availability of its new Pass & Seymour® Self-Test GFCI with SafeLock™ Protection (Pass & Seymour Self-Test GFCI).  Pass & Seymour invented the first GFCI Receptacle in 1971.



The new 2015 UL requirements for GFCIs require an automatic test every three hours. The new device surpasses this upcoming standard by testing itself every three seconds. If the device fails the test, a red flashing indicator light signals that it is time to replace the device. Its SafeLock Protection feature automatically disconnects power to the receptacle if it detects that critical components are damaged and protection is lost.



The Pass & Seymour Self-Test GFCI meets National Electrical Code® tamper-resistant requirements. Its tamper-resistant capabilities are boosted thanks to a patented automatic shutter system that helps prevent the improper insertion of foreign objects. Not only is it FSUL Listed (Federal Specification WC596), but it also exceeds UL943 voltage surge requirements and survives 100X the required UL 3kA/6kV voltage surge test cycles.



The new Self-Test GFCI is easier to install than competing products because it is thinner, leaving more room for wires in the box. It also has an auto-ground clip and a ground screw with a back wire clamp. All mounting screws are shipped captive in the device and wall plate. It also has side or internal screw-pressure plate back-wire termination with #14-#10 AWG stranded or solid, copper or copperclad conductors. Two back-wire holes per termination add wiring flexibility, eliminate pig tailing and save box space. It also prevents line-load miswires if it is wired incorrectly by stopping the transmission of power to the device face and downstream receptacles.



"The ability for GFCI receptacles to test themselves on an ongoing basis is a crucial part of managing electrical risk," said Bill Timmons, director of marketing – residential at Legrand Electrical Wiring Systems. "We are excited about the prospects of our new GFCI. It benefits homeowners by maintaining electrical safety at home, lets contractors install a new device with great speed and confidence and allows distributors to offer their customer base a much more advanced GFCI device."



The new GFCI is available as 15A/125V or 20A/125V duplex receptacles. Both versions have dual-direction test and reset buttons.

GFCIs are required by the National Electrical Code in kitchens, bathrooms, basements, garages and other areas where the risk of shock is possible in residential environments.



The Pass & Seymour Self-Test GFCI is manufactured from high-impact-resistant, thermoplastic construction, which provides superior strength and durability. It is available in the USA and Canada in the following colors: ivory, black, nickel, antique brass, dark bronze, light almond, white, red, brown and gray.



Connect with Legrand on Facebook www.facebook.com/legrandna, Twitter www.twitter.com/passandseymour or www.twitter.com/legrandna, and YouTube www.youtube.com/legrandna



About Legrand

Legrand is the global specialist in electrical and digital building infrastructures. Its comprehensive offering of solutions for use in commercial, industrial and residential markets makes it a benchmark for customers worldwide. Innovation for a steady flow of new products with high added value and acquisitions are prime vectors for growth. Legrand reported sales of close to $6 billion in 2013. Legrand has a strong presence in the North American market, with a portfolio of well-known product lines that include Cablofil, Electrorack, Middle Atlantic, NuVo, On-Q, Ortronics, Pass & Seymour, Vantage, WattStopper, Wiremold, and the recently acquired C2G and Quiktron product lines. The company is listed on NYSE Euronext and is a component stock of indexes including the CAC40, FTSE4Good, MSCI World, Corporate Oekom Rating and DJSI (ISIN code FR0010307819). www.legrand.com



EVAN BLOOM  

SENIOR CONTENT MANAGER PR

EMA  

ERIC MOWER + ASSOCIATES

211 W. Jefferson St.

Syracuse, NY 13202

P 315.413.4349   

F 315.466.2000    

ebloom@mower.com   

www.mowerpr.com

More from Machinery & Machining Tools