Continuous Sandwich Belt conveys bulk material vertically.
Press Release Summary: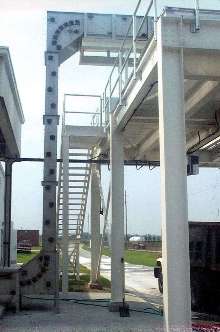 Equipped with stainless steel casing frame, EL series EleVeyor® dual belt conveyor system transports bulk materials over horizontal, steep slope, true vertical, and reverse slope paths. Product conveys bulk materials using sandwich principle, which carries load between 2 belts, allowing materials to be gently secured for upward transport at any required angle of inclination. Belts are completely flat and may be scraped, brushed, or reverse bent as required.
---
Original Press Release:

Continuous Sandwich Belt Conveys Bulk Material Vertically


A patented dual belt conveyor system provides high-speed transportation of difficult bulk materials over any complex path: horizontal, steep slopes, true vertical, reverse slope, etc. Geometric configurations such as the "L" path, "C" path or "Z" path as well as conventional horizontal runs and simple slopes are all easy to negotiate and economical to install, operate and maintain with the new system. EleVeyor® is the name given to the patented system being introduced by Eleveyor® Manufacturing Division, Northeast Fabricators, LLC.

EleVeyor® systems can be sized to convey virtually an infinite volume of bulk materials. The sandwich principle, with load carried (and sealed) between two belts, allows materials to be gently secured for upward transport at any angle of inclination required. Materials like granulated particles and smooth lumps as well as primary crushed rock or ore are easily and positively lifted. Conversely, cleaning of the belts is no problem when the job requires conveying sticky materials such as clay, sludge or filter cake because the belts are completely flat and may be scraped, brushed or reverse bent as required. Sticky products that will not release from cleated belts, sidewall belts or bucket elevators are routinely and satisfactorily conveyed.

A summary of benefits from the innovative EleVeyor® operating concept include:
o Can handle applications that often would be impossible for any other conveyor type
o Operates in less space
o Saves energy - up to 90% over pumping or blowpipe
o Minimal product degradation
o Standard commercial components facilitate maintenance
o Standard Series "EL" has stainless steel casing frame warranted for 25 years

The EleVeyor® Manufacturing Division of NorthEast Fabricators, LLC is becoming well known for solving difficult bulk handling problems all around the world. Manufacturing facilities are located in Walton, New York. Application engineering and sales offices are located in Bethesda, Maryland.

Contact:
Werner Plaut, Product Manager
EleVeyor® Manufacturing Division Wats (800)960-7929
NorthEast Fabricators, LLC Tel (301)652-2999
14853 Cordell Avenue- Suite 716 Fax (301) 652-9655
Bethesda, MD 20814-3031 E-Mail: wplaut@eleveyor.com
http://www.eleveyor.com


More from Packaging Products & Equipment