Continuous Processors Handle Thick Mixtures to Eliminate Addition and Removal of Water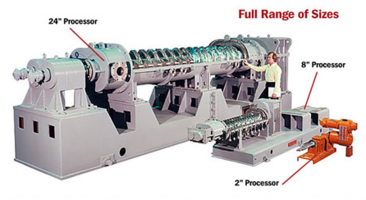 Readco Mixes Viscous Materials Without Need for Thinning
York, PA: Continuous Processors from process equipment manufacturer Readco Kurimoto, LLC, York, Pa. (www.readco.com), automatically mix multiple, highly viscous, liquid and dry materials to a targeted, homogeneous mixture at discharge without requiring the addition of water as a thinning agent. Featuring a proprietary design with twin, co-rotating screws set within a closed barrel, the Continuous Processors are customengineered to handle viscosities in excess of 10 million centipoise (cps) as needed to permit the production of syrups, adhesives, sealants, oils, foams, and other thick materials. By eliminating the addition of water at the outset, the Readco innovation eliminates the need for downstream drying and cooling steps to remove excess water from the product.
Streamlining production versus batch processing, the Continuous Processors achieve comparable production rates, or faster, yet operate with far less volume of material at any given time. This eliminates the risk of a line shutdown due to motor overload that occurs when batch mixers are challenged with highly viscous materials. The Continuous Processors may be tested with multiple materials in a wide range of viscosities at the company's on-site test laboratory to verify performance and forecast anticipated savings in raw materials, water, energy, labor costs, time, and other areas.
For a free brochure or more information, contact Readco Kurimoto, LLC, 460 Grim Lane, York PA 17406; 800-395-4959; or see www.Readco.com.
Media Contact:
Paul Entin at 908-479-4231, [email protected]
David Sieglitz at 800-395-4959