Continuous Motion Uncaser has 70 case/min capacity.
Press Release Summary: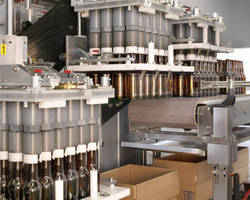 PikMore Uncaser features gripper heads that revolve around center carousel to lift empty glass bottles from their cases. Bottles are then placed on conveyor as they leave machine. Continuous motion machine includes graphic operator interface screen that enables mostly automatic operation. Programmed for auto lubrication, product also times all operations through trigger on main carousel, and is suited for use in wine and beverage industries.
---
Original Press Release:

Standard-Knapp Introduces Pikmore Continuous Motion Uncaser



Uncaser safely removes empty glass bottles at a rate of 70 cases per minute

Portland, CT - Standard-Knapp, a worldwide leader in the manufacture of innovative packaging machinery, introduces the PikMore Uncaser, a continuous motion machine ideal for the wine and beverage industries. A sister machine to Standard-Knapp's PakMore case packer, the PikMore works in reverse to remove empty glass bottles from their cases. Operating at a rate of 70 cases per minute, the PikMore allows for expedited refilling and packaging down the process line.

While the PakMore's gripper heads pick up bottles and safely lower them into the cases, the Uncaser's gripper heads revolve around a center carousel to quickly and gently lift the empty glass bottles from their cases. Designed to maximize efficiency while also minimizing bottle damage, the PikMore gently places the bottles on the conveyer as they leave the machine.

"Our customers on the brewery side buy their glass in bulk," says Maxwell Ziegler, Technical Writer for Standard-Knapp. "This glass arrives in cases, the same cases that will later be shipped right back out holding the beverage. Standard-Knapp saw the need for a machine that could fill a void in the packaging line: one that could take the glass out of the case, send the case down the line, and then send the empty glass down the line too, before utilizing a case packer."

Equipped with Standard-Knapp's graphic Operator Interface Screen, the PikMore is designed to run largely operator free, with a "set it and forget it" operating style. This reduces the number of operators needed on the plant floor and allows operators to focus on other machines and issues farther down the chain. With an eye for easy maintenance, almost the entire machine is programmed for auto lubrication. In addition, the PikMore is free of servo motors to avoid the high cost of ownership and operation associated with them.

In response to customer requests, Standard-Knapp's engineers removed many of the chains that would ordinarily run the machines and replaced them with belts to create a quieter machine. Further, in line with industry demands for sustainability, the PikMore utilizes fewer parts and minimal wear items. All operations are timed through a trigger on the main carousel. According to Ziegler, "We've done mechanically what we would ordinarily have done with programming, which just makes the Uncaser easier to operate, easier to own, and cheaper to maintain."

About Standard-Knapp

Standard-Knapp designs, builds and supports the ultimate in packaging machinery for the most demanding customers. Providing reliable, flexible and easy-to-use packaging equipment, Standard-Knapp serves industries including beverage, food, personal care, household chemicals and automotive. A pioneer in the field of automatic packaging equipment, Standard-Knapp leads the industry with the latest innovations in tray packers, tray loading machines, case packers, shrink wrappers, and bottle packers. With over 100 years of experience, Standard-Knapp is the ULTIMATE in case and shrink packaging. For more information on Standard-Knapp's products, visit www.standard-knapp.com, call 860-342-1100 or email info@standard-knapp.com.

More from Materials