Continental Offers New Wiper Motors and Transmissions for Direct OE Replacement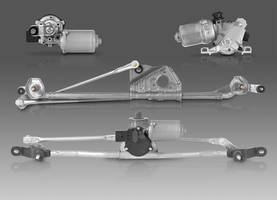 • All new components, no reman, core deposits, or consolidation short cuts
Allentown, PA October 13, 2020 – Continental has introduced a new line of original equipment windshield wiper systems replacement parts that are available directly to the aftermarket. Formerly dealer-only parts, the Continental program offers 20 part numbers of wiper motors and transmissions providing applications on import and domestics cars and light trucks from model years 2005-2020.
Built from technician research
Christina Bergstrom, Continental Senior Product Manager, announced the new line and noted, "Unlike other programs in the aftermarket, the Continental Wiper motor and transmission product line was created from grassroots research with technicians and OE product developers to help solve repair problems on today's vehicles. We analyzed vehicle systems information and received input from technicians to develop the most sought-after components in late model wiper system service."
Built from the ground up as original equipment, Continental wiper motors and transmissions do not include any remanufactured parts, core deposits, or aftermarket consolidation short cuts. Coverage provided by the Continental wiper systems exceeds 21 million VIO, featuring popular models from Chevrolet, Chrysler, Ford, Jeep, Lexus, Nissan, and Toyota.
Continental is a leading aftermarket supplier of OE-engineered parts for HVAC and engine cooling, door systems, tire pressure monitoring systems, engine management, fuel systems and instrumentation, as well as automotive diagnostic systems, premium wiper blades, and brake system parts and fluid.
For more information, visit: www.usa.vdo.com
or contact: salessupport-us@continental.com
Continental develops pioneering technologies and services for sustainable and connected mobility of people and their goods. Founded in 1871, the technology company offers safe, efficient, intelligent, and affordable solutions for vehicles, machines, traffic and transportation. In 2019, Continental generated sales of €44.5 billion and currently employs more than 232,000 people in 59 countries and markets.
Drawing on more than 120 years of cooperation with vehicle manufacturers, Continental offers a broad range of spare parts in OEM quality for the aftermarket. Under brands like Continental, ATE, VDO, REDI-Sensor, ClearContact, OEM DP, Autodiagnos Pro, Uniroyal, Semperit, and GALFER, the technology company manufactures tens of thousands of products, including tires, brakes, drive components and thermal management components. It also provides diagnostic solutions, tools and services for repair shops. Continental is one of the most important suppliers in the independent automotive aftermarket.
Press Contact:
Anouré V. Fenstermaker
Marketing Communications Manager
Continental
Vehicle Networking and Information (VNI)
Commercial Vehicles and Services (CVS)
6755 Snowdrift Road, Allentown, PA 18106
Tel: (484) 705-1909 , Fax: (610) 289-1766
Email: anoure.fenstermaker@continental.com