Content Analyzer measures oil level in water and soil.
Press Release Summary: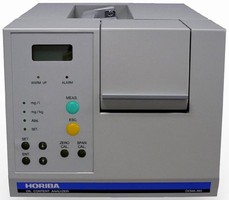 Used in lab or field, Horiba OCMA-350 checks for residual oil on semiconductor parts which have been cleaned and measures oil on any industrial surface. It features removable sampling cell and records time and date of measurement along with each data set. Data evaluation function analyzes readings, determines when value has stabilized, and displays stable value. Messages on LCD screen indicate any electrical malfunctions, irregularities in measurement, and deterioration of parts.
---
Original Press Release:

Oil Content Analyzer for Water, Soil or Surface Measurement



Applications
o Surveying water quality and hazardous waste sites
o Monitoring wastewater influent and effluent
o Checking bilge and ballast discharge
o Monitoring the efficiency of oil/water separation processes
o Monitoring the discharge produced when cleaning storage tanks
o Monitoring waste-water discharge from service stations
o Measuring residual oil on textiles and metal parts

JM Science announces their representation of Horiba's OCMA-350 Oil Content Analyzer. Compact and simple, the OCMA-350 oil content analyzer delivers quick, accurate measurements in the lab or field. It efficiently measures the level of oil in water or soil for environmental applications, checks for residual oil on semiconductor parts which have been cleaned, and measures oil on any industrial surface.

Using the OCMA-350 is almost effortless. Simply inject the extract from the sample, dissolved in Horiba's S-316 solvent, into the measuring cell, and press ONE button. A PC may be utilized to simplify the OCMA-350 operation. To introduce the sample, the cell may be removed from it's holder, thus avoiding leaks and spills giving the user more control. The removable cell is also easy to maintain.

The unit's data evaluation function analyzes the readings, determines when the value has stabilized, and displays that stable value. Messages on the LCD screen indicate any electrical malfunctions, irregularities in measurement, and deterioration of parts, so that the user may always be assured of proper functioning. The OCMA-350 keeps a record of the time and date of measurement along with each data set it records. When printing out, it provides both time and the measurement allowing for easy recordkeeping.

For more information contact us at 1-800-495-1678 or visit us at www.jmscience.com

Related