DC to DC Power Supplies (Converters)
ConTech Introduces RQT Series DC/DC Converters with an Efficiency of 87%
Press Release Summary: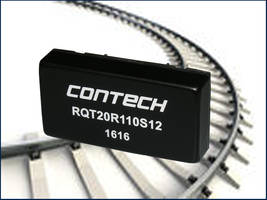 RQT Series of Railway DC/DC Converters deliver a regulated output power of 20 W with 24VDC, 48VDC and 110VDC nominal input voltages and offer 5, 12, 15 and 24VDC single output voltages. Units come with remote On/Off, over temperature, overload and short circuit protection options. The converters can be operated in -40 to +105°C temperature range and are encapsulated with thermally conductive potting compound. RQT Series converters are compliant to RoHS and meet UL 60950-1, EN50121-3-2 and EN50155 standards.
---
Original Press Release:
20-Watt 1 in. x 2 in. Railway DC/DC Converter
ConTech, a Division of Calex, announces the "RQT" Series of Railway DC/DC converters. The RQT Series offers 20 Watts of fully regulated output power with nominal railway input voltages of 24VDC (9-36 VDC), 48VDC (18-75 VDC), and 110VDC (40-160 VDC). Single outputs offered are 5, 12, 15, and 24VDC. The RQT series uses an industry standard 1"x 2" package which can be ordered with an optional heat-sink. The RQT Series operates with efficiencies as high as 87%.
Features include Remote On/Off, Output Trim, Over Temperature, Overload, and Short Circuit Protection. The operating case temperature range of the RQT series is -40 to +105°C. The unit is encapsulated with a thermally conductive potting compound and uses a metal case for improved thermal performance. The RQT series meets Railway standards EN50155, as well as EMC standard EN50121-3-2. The RQT series also meets UL 60950-1 and is RoHS compliant.
For pricing or more information, contact Calex Mfg. Co., Inc. at 800-542-3355 or fax 925-687-3333. Units are available from stock to 6 weeks. To view a complete data sheet of the RQT series go to www.ConTech-us.com/pdf/rqt.pdf To see our complete product line visit our website at www.ConTech-us.com. You may contact us at sales@ConTech-us.com or call Toll free (877) 302- 4411.
Contact: Michael McNally
(mmcnally@ConTech-us.com)
Phone: (719) 266-6046
More from Mechanical Power Transmission