Contamination Monitors perform fluid cleanliness analysis.
Press Release Summary: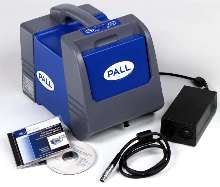 Portable Cleanliness Monitor, PCM400, and Particle Counter, PFC400W, obtain fluid cleanliness data in order to detect abnormal contamination. Former uses multiple mesh blockage technology to monitor fluids that are dark, cloudy or contaminated by water or air. Particle counter measures size and quantity of particulate in industrial fluid systems. It combines laser blockage technology with water sensor, which measures amount of dissolved moisture in oil.
---
Original Press Release:
Pall Launches Two New Contamination Monitors for Fast, Reliable Fluid Cleanliness Analysis - - Even Under Adverse Fluid Conditions
Prevents Machinery & Equipment Problems by Saving Time and Costs East Hills, NY (Dec. 1, 2004) - -Obtaining accurate and reliable fluid cleanliness data quickly, in order to detect abnormal contamination, is a key factor in ensuring efficiency of industrial processes. However, this is often problematic due to the type or condition of the fluids that need to be monitored. Pall Corporation (NYSE: PLL) is introducing two new portable devices that surmount detection problems by giving plant operators the ability to measure cleanliness of even the most troublesome fluids reliably, simply and quickly to prevent unnecessary and costly machinery and equipment downtime. The PCM400 Portable Cleanliness Monitor and the PFC400W Portable Particle Counter both provide a simpler, more convenient way to ensure more accurate results than currently available monitors and counters. The new Cleanliness Monitor can confirm cleanliness of almost every kind of hydraulic, lube or process fluid used in a wide range of industries, even under adverse fluid conditions. Its unique multiple mesh blockage technology addresses the common problem of inaccurate or unreliable results when monitoring fluids that are dark, cloudy or contaminated by water or air. The new Particle Counter, a portable diagnostic device to measure the size and quantity of particulate in industrial fluid systems, combines a proven state-of-the-art laser blockage technology with a water sensor. Unlike traditional laser counters, the integral water sensor measures the amount of dissolved moisture in oil, which can help prevent erroneous counts and false positives, due to the presence of emulsified or free water droplets, enabling operators to take timely preventative action when needed. "These new products to monitor fluid cleanliness and measure contamination underscore our approach to help manufacturing plants select the optimal technology for their specific industry needs and standards so they can achieve total cleanliness management regardless of the type of fluid or the fluid's condition," says Reed Sarver, Senior Vice President of Pall Corporation. "Both devices ensure the myriad industries, such as automotive, primary metals and pulp and paper, that rely on these fluids to keep their machinery and operations running smooth and efficiently, will be able to obtain more accurate results and save time and money." Onsite monitoring of fluids is the standard practice in most industrial processes. However not all oils and all fluids can be accurately monitored because the presence of free air or water contamination will cause erroneous counts with conventional light blockage particle counters. Once oil is degraded and turns black, a particle count based on laser light blockage is no longer reliable. Due to the high potential of false positives and erroneous counts, time consuming and costly offsite laboratory testing is often employed. More Robust Cleanliness Monitoring The PCM400 Portable Cleanliness Monitor employs a novel design to measure the rate of pressure drop increase across two mesh discs (5 micron and 15 micron) either on-line or off-line. Its combination of multiple meshes and bi-directional flow differs from other monitors that extrapolate data from a single mesh. Automatic reversing of the flow path through the meshes provides a self-cleaning mechanism that flushes contaminants from the meshes and acts to stave off mesh plugging and blockage. The PCM400 also measures fluid temperature and viscosity and has a hand-held, removable display/programmer with a touch screen interface. An optional water sensor can be incorporated for use with mineral-based fluids. Particle Counting Plus For those industries that must record actual particle counts of fluids such as mineral and synthetic oils, fuels and industrial phosphate esters, the combined laser counter and water sensor technology of the PFC400W Portable Particle Counter provides a built-in system check that reduces the potential for inaccurate results. It enables operators to identify problems onsite more readily, such as a water leakage into the system, and act preemptively to prevent unplanned for and unnecessary downtime of machinery. In addition to making it easier to obtain more accurate and timely results, the new particle counter provides several additional benefits. It can be programmed to perform single counts, time counts or continuous counting. More than 50 sample point profiles can be stored in the unit, simplifying routine oil analysis. The PFC400W offers convenience as its hand-held display and program can be detached from the unit to download data onto a computer without moving the whole unit. Also included are a temperature sensor, which provides additional supporting data, and a built-in pump for low pressure or bottle sampling. About Pall Corporation Pall Corporation is the global leader in the rapidly growing field of filtration, separations and purification. Pall's business is organized around two broad markets: Life Sciences and Industrial. The Company provides leading-edge products to meet the demanding needs of customers in biotechnology, pharmaceutical, transfusion medicine, semiconductor, water purification, aerospace and broad industrial markets. Total revenues are $1.8 billion. The Company headquarters are in East Hills, New York with extensive operations throughout the world. Visit Pall at www.pall.com.
More from Electrical Equipment & Systems