Contaminant Removal System serves blown film extrusion plants.
Press Release Summary: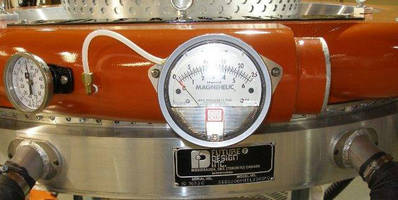 Saturn Evacuation System (SES) helps blown film extrusion plants reduce airborne contaminants by up to 80% and extends cleanings from every 6 weeks to quarterly or longer. Connected to vacuum side of blower, SES comprises air ring that fits any air ring or die constructed of aluminum. System creates positive vacuum that draws contamination from low-pressure zone at die exit. Polluted air is then filtered, and discharged particulates are directed to suitable location.
---
Original Press Release:

Future Design Introduces New System to Reduce Airborne Contaminationin Blown Film Extrusion Plants by as Much as 80%



MISSISSAUGA, ONTARIO, CANADA - Blown film extrusion plants can now reduce airborne contaminants by as much as 80% with a new patented Saturn Evacuation System (SES) from Future Design Inc. and extend cleanings from every six weeks to quarterly, or longer.  Future Design, now in its 35th year, specializes in air ring technology.



The SES comprises a small air ring that fits any air ring or die that is constructed of aluminum and fits between the die and the primary cooling ring.  Connected to the vacuum side of the blower, the system creates a positive vacuum that draws as much as 80% of the contamination from the low-pressure zone at the die exit.  The polluted air is filtered and the discharged particulates directed to a suitable location.



Contaminants from the blown film process are inevitable and cause safety, health and maintenance problems.   Comprised of smoke, fumes, vaporous residues and other noxious polymers from the extrusion process of blown film, these contaminants cannot be captured by conventional exhaust systems and are too heavy to stay airborne.  As a result, they settle on equipment frames, railings, electrical components or plant lighting throughout the plant.  Many facilities shut down for one or more days as often as every six weeks to eliminate these contaminants.  Initial plant installations of the new SES systems have enabled them to extend cleaning from weeks to months, a considerable cost savings, not to mention the health, safety and maintenance benefits.  Airborne particulates as high as 60 million parts per million (ppm) have been reduced to as few as 400,000 ppm, a formidable reduction.



A complete SES system is relatively inexpensive depending on the size of the die.   Blown film extrusion plant operators can realize an ROI or payback in a very short time, and the saving and payback continues over the months and years when compared to the expenses for a plant shutdown every few weeks.  Regular maintenance costs are also trimmed, not to mention the safety improvements in the work area.



In addition to providing a reduction in airborne pollutants, other benefits include:

• Increased film quality and increased film production.

• Other filters, electrostatic precipitators and other air cleaning devices can readily be attached to the patented SES.

• The Saturn Evacuation System can be retrofit on any die or air ring package.

• By reversing the connection to the blower from the intake to the exhaust side, the SES actually becomes a small air ring that can assist with start-up, if required.



Future Design Inc., a Gloucester Engineering Company, manufactures a wide range of beneficial products for the flexible packaging industry.  The firm is noted for their blown film bubble management expertise and products including their Saturn™ and Perfect Balance ™ air rings, SES evacuation systems, patented Escort collapsing frames and Little Giant narrow web/lab lines.



For more information on the patented, new Saturn Evacuation System, contact:  Marketing Department, Future Design Inc. 5369 Maingate Drive, Mississauga, Ontario, Canada L4W 1G6.  Tel: 905-361-9978. Fax: 905-361-9985.  Email: sales@futuredesigninc.com.  Web: www.futuredesigninc.com.

More from Architectural & Civil Engineering Products