Containment System meets stringent safety standards.
Press Release Summary: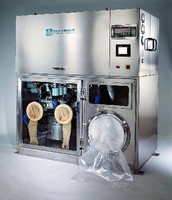 ABSOLUT System provides containment and removal of active compound and toxic product dust during industrial and pharmaceutical production. It features sub-micron particulate filter cassettes in active and safety filter stages, ability to dedust different tablet presses without product cross contamination, and integrated weighing systems to record quantities that have been extracted. HEPA filters allow cleaned air to be reintroduced back into production area.
---
Original Press Release:

Fette ABSOLUT High Containment System Offers Maximum Efficiency with Low Operating Costs



Meets the most stringent safety standards for processing highly active or toxic materials

ROCKAWAY, NJ - Fette, a leading manufacturer and supplier of tablet presses for both pharmaceutical and industrial applications, now offers Fette ABSOLUT filtration/containment systems that set a new standard in the containment and removal of active compound and toxic product dust during industrial and pharmaceutical production, it was announced by Rich Derickson, Vice President of Sales & Operations for Fette America.

According to Mr. Derickson, the Fette ABSOLUT system can filter extremely fine dust particles and aerosols, bringing pharmaceutical processing contamination levels down well below the most stringent OEL (Occupational Exposure Limit).

Based on a proven design initially developed and utilized in the nuclear industry, the system provides an extremely low airborne dust level during handling via the use of two HEPA filters which allow cleaned air to be reintroduced back into the production area with no impact on room-to-hallway air balancing.

The Fette ABSOLUT system features the exclusive use of sub-micron particulate filter cassettes in both the active filter and safety filter stages, affording the ability to accept high levels of contaminants in the inlet air stream; guaranteed 24-hour system operation; the ability to dedust different tablet presses with one filter system without product cross contamination; and integrated weighing systems to provide records of the quantities that have been extracted. With low installation and operating costs, the system can be used with coating pans, dedusters, granulating systems, tablet presses, or any other equipment and in any production environment.

Fette America is a direct extension of Fette GmbH of Schwarzenbek, Germany, one of the first companies to develop and perfect the rotary tablet press. With unmatched service and support, Fette America offers complete services to Fette clients in the United States, Canada, and Puerto Rico, including new and used machine sales, technical assistance, machine installations, training classes and seminars, validation, maintenance, trouble-shooting and repairs, spare parts, and tooling.

For more information, contact Fette America at 400 Forge Way, Rockaway, NJ 07886; Telephone 973-586-8722; Fax 973-586-0450; e-mail sales@fetteamerica.com, or visit the company's Web site at www.fetteamerica.com

More from Electrical Equipment & Systems