Containment Berms Offer Rugged Ground Protection with Higher Puncture Resistance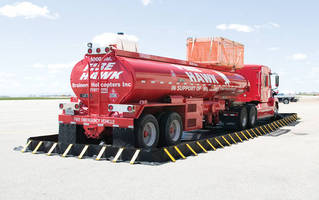 Aire Industrial has included in its containment berms line up the option of an integral track mat welded directly to the berm floor. This feature will provide superior puncture resistance and give the berm an additional immovability in areas of wind or climate instability.

Containment berms designed for heavy traffic operations can utilize the supplemental component to extend the service life and to provide long lasting durability. The integral track mat welding is an option that can be effortlessly manufactured into the berm at an affordable cost. This choice is one of many that can be provided when exploring the specific site needs of containment requirements.

Installing a berm with the track mat welded to the floor is no different than a standard berm. The containment device will be heavier and may require additional manpower depending on the size of the berm. All sizes from 4ft x 6ft to 100ft x 100ft can be fitted with the track mat option welded directly on the berm base.

Applications for the integral weld may include areas of high wind that would benefit from the additional weight of the track mat welded containment berm, in addition to heavy traffic use such as a wash down station or refueling arena. This simple and reasonably priced option can prevent perforations and prolong the usage of the containment device. Given the stringent EPA requirements for spill control and containment, it is advisable to discuss the specific conditions of operation that will be applicable.

Offering the more robust welded option does not change the chemical compatibilities of the berm itself. It is still resistant to the same properties and loses no efficacy to withstand a chemical or fuel spill directly onto and into the berm. The fabric still holds the same effectiveness as a berm manufactured without the integral tack mat.

For more information on this and other containment berms configurations, contact Aire Industrial, 2021 E Wilson Ln, Meridian, Id 83642, 1-800-247-3846 or visit aireindustrial.net where information, photos and supplemental chemical compatibility charts can be found.

About AIRE Industrial:

Located in Meridian, ID, AIRE Industrial has combined its technical knowledge and manufacturing expertise of flexible textiles to provide containment products and spill prevention solutions for government agencies, military, agriculture, environmental containment, and the wild land fire suppression industries.


More from Computer Hardware & Peripherals