Containers come in clear or custom colors.
Press Release Summary: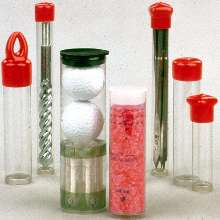 Thin Wall PermaSeal containers have varying wall thicknesses and permanent, unbreakable bottom closures. Heavy or sharp contents do not break through bottom during shipping and handling. Bottom closures are fused to container to form tamper proof seal. Diameters range from 1/4 to 3 in. and lengths from 2 to 60 in. Thin wall styles are available in clear or custom colors for consumer or industrial packaging.
---
Original Press Release:
New Thinwall PermaSeal Containers Save Money

VisiPak's expanded line of packaging includes the New Thin Wall PermaSeal container, which can greatly reduce the cost of your package. PermaSeals come in varying wall thicknesses and the thinner wall uses less material driving the cost of your completed package down. With permanent and unbreakable bottom closures, the packaging does not allow heavy or sharp contents to break through the bottom during shipping and handling. These new bottom closures are fused to the container to form a tamper proof seal. Diameters range from 1/4" to 3" and lengths from 2" to 60" with no tooling charges. Thin wall styles are available in clear or custom colors and can give your package an attractive appearance for consumer or industrial packaging. For additional information and specific samples for testing, please contact us at 800-797-7886.

Visit our new website at www.visipak.com