Container Seals/Tubing are available in silicone and TPE.
Press Release Summary: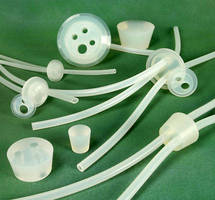 Available for glass, metal, and plastic containers used in pharmaceutical, biotech, laboratory, and other clean applications, BioClosure® biologically safe closures come in AdvantaFlex® biopharmaceutical grade thermoplastic elastomer (TPE) and platinum-cured silicone. AdvantaFlex exhibits minimal absorption and adsorption characteristics and does not contain silicone oils. As tubing, AdvantaFlex provides weldability and helps eliminate need for aseptic connectors. It is also heat sealable.
---
Original Press Release:

BioClosure® Container Seals from AdvantaPure®Now Available in Silicone and TPE



For Glass, Metal or Plastic Containers



Southampton, Pa. — AdvantaPure announces the availability of its BioClosure container closures in biopharmaceutical grade thermoplastic elastomer (TPE). Previously offered only in platinum-cured silicone, the closures are used in pharmaceutical, biotech, laboratory and other clean applications.



AdvantaPure's TPE material, AdvantaFlex®, provides an alternative to silicone. AdvantaFlex offers lower absorption and adsorption characteristics than silicone and does not contain silicone oils, substances that are undesirable in some biological processes. As tubing, AdvantaFlex provides weldability and helps eliminate the need for costly aseptic connectors. It's also heat sealable and offers excellent life in peristaltic pumps. Additionally, certain styles of BioClosures, whether TPE or silicone, may be molded with tubing of the same material, creating a leak-proof assembly with one validated material contact surface.



BioClosures work with flexible container systems, laboratory bottles, and sampling and storage receptacles of glass, plastic or metal. Other key features include:



Animal derived ingredient free

Will withstand autoclaving and gamma irradiation

Biologically safe

Reduction of cross contamination risks, cleaning requirements, and validation time and costs when used as Single-Use components



BioClosures may be used with temperatures as low as -100°F and as high as 400°F (-73°C to 204°C), depending on material. They're documented lot traceable, and validation and extractable test portfolios are available. Limited styles are currently offered in TPE, though others are becoming available as the line expands. Silicone styles include stoppers; caps; inserts for True Unions, GL45's, 83B's, 38-430's and others; all available with or without tubing inserts. Silicone stoppers ranging in sizes between 2 and 12 are stocked; other items are custom manufactured.



For more information on BioClosures in TPE or silicone, contact the AdvantaPure team at 145 James Way, Southampton, PA 18966; phone 888-755-4370 or 215-526-2151; fax 888-258-4293 or 215-526-2167; e-mail: sales@advantapure.com; or visit http://www.advantapure.com/bioclosure-container-closures.htm.



ISO 9001-2008 RGB 300About AdvantaPure and NewAge Industries®

The AdvantaPure division of NewAge Industries is ISO 9001:2008 certified and specializes in high purity tubing, hose, single use systems, manifolds, and other molded components for the pharmaceutical, biomedical, food, beverage, and cosmetic industries. All products are manufactured, stored, and shipped using the cleanest methods possible to ensure unsurpassed product purity.



In business since 1954, NewAge Industries manufactures plastic and rubber tubing in both reinforced and unreinforced styles. The company offers one of the broadest product lines of tubing and fittings in the U.S., provides extensive custom extrusion and fabrication capabilities, and services customers worldwide. Automated product identification systems, including gamma-stable RFID tags and labels, are offered by NewAge's Verigenics™ division. In 2006, NewAge initiated an ESOP (Employee Stock Ownership Plan) for the benefit of both its employees and customers.



AdvantaFlex®, BioClosure®, NewAge Industries AdvantaPure®, Verigenics™, and NewAge® are trademarks of NewAge® Industries, Inc.

More from Fluid & Gas Flow Equipment