Contactors incorporate electronic coil control design.
Press Release Summary: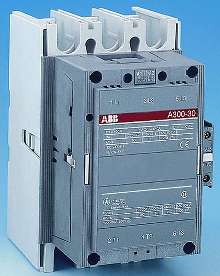 AF Series contactors provide complete coverage of contactor requirements from 9-1650 A. All sizes above 50 A feature electronic coil control design and are available in four voltages: 24-60 Vdc, 48-130 Vac/Vdc, 100-250 Vac/Vdc, and 200-500 Vac/Vdc. Product also eliminates contact bounce and chattering to reduce RF interference and power consumption. Contactors rated 400 A and above offer 2 inputs for controlling contactor with low voltage signals.
---
Original Press Release:
Extending the A-Line Range: New AF Contactors
The A-Line contactors from ABB has been further extended to provide complete coverage of virtually any contactor requirement from 9A to 1650A. In addition, all sizes above 50A, can now be specified as an "AF" series. The AF features an electronic coil control design for enhanced reliability, increased service life, reduced power consumption and low noise operation. The electronic coil design covers a wider voltage range than conventional contactors, with just four coil voltages (24-60V DC, 48-130V AC/DC, 100-250V AC/DC, and 200-500V AC/DC) needed to cover a voltage range that used to require 60 different coil voltages. The electronic coil interface design supplies the current necessary to initially close the contacts and then, reduces it to a level needed to maintain the closure, even if the control circuit voltage or power supply quality varies. The AF's elimination of contact bounce or chattering also increases reliability and service life, reduces RF interference, cuts power consumption by around 65%. AF contactors rated 400A and above (AF400-AF1650), also have two inputs for controlling the contactor with low voltage signals such as from a PLC. This series of contactors are particularly useful in installations where a momentary loss or variation in the input voltage is a possibility. The aforementioned condition would cause a conventional contactor to momentarily open and then re-close when the voltage stabilizes. The opening of the contacts causes an electric arc, and if the contacts re-close before the arc has dissipated, they can become welded together. This unpredictable behavior is both hazardous and damaging to equipment. Previously, such conditions required the use of expensive rectifiers or DC contactors to prevent this problem. The AF's advanced design eliminates the need for this costly "extra" equipment. The AF contactors are UL Listed, CSA Certified and comply with international standards IEC60947-1, 60947-4-1 and European standards EN60947-1 and 60947-4-1. They are available through distributors throughout the world. For more information, visit our web site at www.abb-control.com or call ABB at (888) 385-1221.
More from Mechanical Components and Assemblies