Contactors and Relays handle up to 630 A.
Press Release Summary: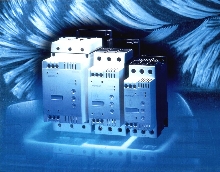 Large frame Sirius 3R contactors and overload relays for motor controls are available in 3 sizes rated from 115 to 500A. Contactors have easy access ac/dc coil system with universal current coil rated for both ac and dc voltages. Only 13 different coil ranges cover control voltages from 24 to 600V ac and dc. Overload relays are rated from 50 to 630 A full load and are available in starter or panel mount versions.
---
Original Press Release:

SIEMENS INTRODUCES LARGE FRAME CONTACTORS FOR MOTOR CONTROL Modular Sirius 3R System For Application Range Over 100 Amperes.


Alpharetta, Ga., Jan. 4, 2002 - Siemens Energy & Automation, Inc., today introduced a new large frame family of Sirius 3R contactors and overload relays in three sizes rated from 115A to 500A that can be used for either AC or DC applications and offer simple coil replacement and common accessories across the entire Sirius 3R product family.

Sirius 3R is a modular system of contactors; overload relays, motor starter protectors, control relays and timers with a compact design to save cabinet space and speed installation. The new contactor sizes complement the original Sirius 3R control family of devices rated up to 100A. As with the original products, all of the large frame devices are optimally matched mechanically and electrically, enabling users to build starter systems quickly and easily.

All three sizes of the large frame Sirius 3R contactors have a unique, easy access AC/DC coil system featuring a "Universal Current" (UC) coil rated for both AC (40Hz through 60Hz) and DC voltages. Only 13 different coil ranges can cover control voltages from 24V to 600V AC and DC, rather than the usual 50, greatly reducing a user's inventory requirements. The new Sirius 3R (100A and greater) contactors can be ordered with four coil options: (1) conventional and (3) electronic. The conventional coil is our standard coil option to replace the World Series line of devices. The first electronic coil version of the Sirius 3R contactor systems contains an interface for direct switching of a PLC without additional relays or PLC interfaces. The second electronic coil version with Remaining Lifetime (RLT) indication displays the estimated contact erosion for quick visual inspection to eliminate down time due to worn contact tips. The third electronic coil can also be ordered with an option to accommodate digital communication via AS- Interface.

In addition to the contactors, the new SIRIUS 3R large frame solid- state overload relays are rated from 50 full load amperes to 630 full load amperes covering all (3) frame sizes. These devices are available in starter or panel mount versions. In addition to the 4:1 full load ampere ratio, these devices also feature manual or manual/auto reset functions and provide phase loss protection in both, class 10 or class 20 trip times.

Siemens AG (NYSE: SI) , headquartered in Munich, is a leading global electronics and engineering company. It employs some 450,000 people in 193 countries, and reported worldwide sales of more than $74 billion in fiscal 2001 (10/1/00 - 9/30/01). The United States is Siemens' largest market, with nearly 80,000 employees and sales of $18.9 billion for fiscal 2001. For more information about Siemens in the U.S., go to www.usa.siemens.com