Contacting Solution facilitates assembly test.
Press Release Summary: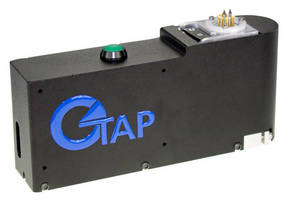 G-TAP is used for contacting of electronic assemblies, in particular JTAG bus, for testing and programming. Module can be utilized in stand-alone operations and as integrated solution in existing electronic and optical test systems. Inline solution can compensate PCB position tolerances of up to 1 mm, automatically adapting to UUT. This enables utilization in test systems not designed for probe contacting. Containing 11 signals, precondition is special Pad design on assembly.
---
Original Press Release:

G-TAP - versatile Contacting Solution for Assembly Test from GOEPEL Electronic



GOEPEL electronic introduces G-TAP, a worldwide unique solution for the versatile contacting of electronic assemblies – in particular the JTAG bus – for testing and programming. The G-TAP is not a single product but an overall concept, because the module can be utilized in stand-alone operations as well as an integrated solution in existing electronic and optical test systems such as Flying Probers, In-Circuit Test or AOI systems.



"In the development and production of electronic assemblies the problems in contacting are well known. The G-TAP is more than a single solution as it can be applied multilaterally and flexibly for all upcoming test and programming tasks", says Martin Borowski, Technology Expert in GOEPEL electronic's Boundary Scan Division. "The tiresome selection between the utilization of plug connectors, test points, or both, and their corresponding benefits and disadvantages is now omitted. The G-TAP kills all birds with one stone because it provides the ideal solution for all occurring contacting requirements."



About the G-TAP:

During G-TAP development special emphasis was placed on the opportunity to combine several test methods. Additionally, there is an inline solution that can compensate PCB position tolerances of up to 1 mm, automatically adapting to the UUT. This enables utilization in test systems not designed for probe contacting, such as classical AOI systems. The efforts in integration are very low as required signals are supplied via a central unit.



The precondition is a special Pad design on the assembly. It contains altogether 11 signals: the JTAG bus, voltage supply and potentially required add-on signals. Therewith it is possible to execute electric tests (Boundary Scan, software emulation via VarioTAP) and any programming tasks (on-chip Flash, external Flash, FPGA/CPLD). The Pad design consists of vias, enabling contacted from the bottom and top sides. Due to requirements such as initial operations of prototypes and serial production or repair, both manual and automated adaptation are available.



The G-TAP concept is registered for patent.



About GOEPEL electronic:

GOEPEL electronic is a worldwide leading vendor of innovative electronic and optical test and inspection systems, market leader for professional JTAG/Boundary Scan solutions for Embedded System Access (ESA). A network of branch offices, distributors and service partners ensures the global availability of the products as well as the support of the more than 7,500 system installations. Founded 1991 and headquartered in Jena, Germany, GOEPEL electronic employs currently about 200 employees and generated a revenue of 26 Million Euro in 2011 (ca. $35 Mio). GOEPEL electronic has continuously been ISO9001 certified since 1996 and has been honoured with TOP-JOB and TOP-100 awards for being one of the best medium-sized companies in Germany. GOEPEL electronic's products won several awards in recent years and are used by the leading companies in telecommunication, automotive, space and avionics, industrial controls, medical technology, and other industries. Further information about the company and its products can be found on the internet at www.goepel.com.



Press Contact:

GOEPEL electronic GmbH  Tel: +49-3641-6896-739

Stefan Meissner    Fax: +49-3641-6896-944

Goeschwitzer Str. 58-60/66  Email: press@goepel.com

D-07745 Jena    URL: www.goepel.com

More from Packaging Products & Equipment