Contact Center Headset features lightweight, ergonomic design.
Press Release Summary: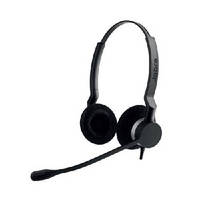 Equipped with noise cancellation microphones, Jabra BIZ™ 2300 minimizes unwanted background noise found in crowded open office environments. Unit also features 360° break-proof boom arm and Kevlar®-reinforced cord to withstand long hours of use. With small perforations that minimize penetration of air shocks to device, Air Shock microphone ensures accurate recognition of key words and phrases. USB version is supported by Jabra Xpress, which facilitates remote configuration and deployment.
---
Original Press Release:

Jabra Unveils New Headset Purpose-Built for the Next-Generation Contact Center Professional



Jabra's new BIZ 2300 arms modern contact center agents with best-of-breed headset technology



ORLANDO, Fla., -- The Future Call Center Summit --Jabra, a leading manufacturer of innovative audio solutions, today announced the answer to the contact center of tomorrow - the Jabra BIZ(TM) 2300.  Completely rethinking the role of the headset in the contact center, Jabra is launching the Jabra BIZ 2300 as a direct response to address the needs of the evolving contact center landscape.



Developed with the contact center agent in mind

Today contact centers play an increasingly important role as the customer's first point of contact, and companies are realizing their contact center agents are in essence their brand ambassadors. With agents on the frontline, it is paramount that each call is handled as professionally as possible with crystal-clear sound and minimal to no background noise.



"We believe that contact center agents are key contributors in safeguarding brand perception, and this will only increase in the future," said Holger Reisinger, Jabra Vice President of Marketing, Products and Alliances. "With the Jabra BIZ 2300 we accepted the challenge of developing a superior audio device for these brand ambassadors with best-in-class sound performance, built-to-last durability and exceptional comfort."



With up to 50 percent better noise cancellation and a 20 percent lighter form factor compared to competitors, Kevlar® cords and a virtually unbreakable boom arm for durability, the Jabra BIZ 2300 comes out on top with all key call center headset parameters.



Jabra BIZ 2300 benefits include:



--  Unprecedented Noise Cancellation Microphone: Best-in-class noise-cancellation microphones reduce unwanted background noise and are ideal in crowded open office environments.

--  Agent Comfort:  Lightweight form factor and ergonomic design make the BIZ 2300 comfortable for extended wear.

--  Built Contact-Center Tough: With a 360 degree break-proof boom arm and a Kevlar®-reinforced cord, the Jabra BIZ 2300 is built to withstand -the long hours of usage by  high-performing contact center agents.

--  Optimized For Speech Analytics: The Jabra BIZ 2300 maximizes an organization's speech analytics investment by ensuring accurate recognition of key words and phrases.  An Air Shock microphone designed aerodynamically, with small perforations reduces the penetration of air shocks to the device increasing speech intelligibility

--  Mass Deployment: The Jabra BIZ 2300 (USB version) is fully supported by Jabra Xpress, the mass deployment tool by Jabra that makes remote configuration and deployment simple and intuitive. For more information go to www.jabra.com/xpress.



"What strikes me most about the new Jabra BIZ 2300 is it offers features typically found only in more expensive, higher-end headsets, such as Kevlar cords and the 360 boom arm," said Sheila McGee-Smith, industry analyst and president, McGee-Smith Analytics.  "Agents wear headsets for many hours a day, and these features add increased comfort and durability."



A collaborative development effort

To ensure that the Jabra BIZ 2300 meets all the demands of the modern contact center, Jabra has developed the headset in close collaboration with customers and strategic alliance partners such as Avaya, a global leader in business communication.



"Today, companies like Avaya need to execute to perfection at all customer touch-points, with a crisp and clear voice," said Linda Hartig, Avaya VP of Global Support Services. "Our Services Desk in Westminster, Colorado has piloted the Jabra BIZ 2300 and it is spot on in terms of delivering that superior sound quality Avaya and our customers expect."



Availability

The Jabra BIZ 2300 is available today and will be sold through Jabra Business Solutions partners.



To experience the product first hand please visit Jabra Booth #23 at the Future Call Center Summit in Orlando, FL January 21 -24.



About Jabra

Jabra is the brand of GN Netcom, a subsidiary of GN Store Nord A/S (GN) - listed on NASDAQ OMX. Jabra employs approximately 900 people worldwide and in 2012 produced an annual revenue which amounted to DKK 2,355 million. Jabra is a world leader in the development, manufacturing, and marketing of a broad range of hands-free communications solutions. With a reputation for innovation, reliability, and ease of use that goes back more than two decades, Jabra's consumer and business divisions produce corded and wireless headsets, plus mobile and in-office speakerphones that empower individuals and businesses through increased freedom of movement, comfort, and functionality.



© 2013 GN Netcom A/S. All rights reserved. Jabra® is a registered trademark of GN Netcom A/S. All other trademarks included herein are the property of their respective owners. (Design and specifications subject to change without notice)



Web Site: http://www.jabra.com

More from Electronic Components & Devices