Construction Specification Software offers online updating.
Press Release Summary: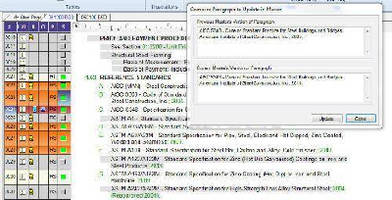 Designed to produce construction specifications, BSD SpecLink-E delivers continuous, online data updates that provide architects and engineers with up-to-the-minute information that merges automatically with data already included in developing project specification without altering current output. Any product sections in template that are not currently in use are automatically updated, and any section already in use is updated selectively, to avoid making changes without user's knowledge.
---
Original Press Release:

Building Systems Design, Inc. Introduces Unique Online Text Updating for Construction Specifications



BSD SpecLink-E software provides continuous online data updates for up-to-the-minute documents



ATLANTA –Â Building Systems Design, Inc. (BSD) today announced revolutionary changes in the updating features of its BSD SpecLink-E software for producing construction specifications. Building on the unique properties of its relational database software, BSD now has the ability to provide continuous, on-line data updates that provide architects and engineers with up-to-the-minute information that merges automatically with data already included in a developing project specification without altering the current output.



Construction specifications are detailed instructions for a contractor that define the quality of products and workmanship required for a particular building project. These documents cover hundreds or even thousands of products, include highly detailed requirements, and require constant updating because of unpredictable changes within the construction industry. Assuring that these documents are up to date has traditionally been a major chore for architects and engineers, who typically rely on commercial master specification systems that are provided on a subscription basis.



For decades, traditional master specification systems have been delivered to subscribers as a collection of individual word processing files that are modified to fit the needs of particular projects, with each file focusing on a particular product category. Updating these files has typically been accomplished by periodic replacement of the entire file, so coordination of the updating requires significant effort, and replacement of the hundreds of files typically takes several years. By contrast, BSD's master specifications have always been delivered in relational database software, so it has always been possible to update individual paragraphs on an as-needed basis. Paragraphs can be added, modified, or deleted from a database of master text that users employ as a template, selecting the options needed to assemble a customized final document.



One year ago, BSD replaced its quarterly, global updating with continuous, on-line data updates. Any new project is therefore using the very latest information automatically. However, the newest software release has gone one step further to help architects update projects that are currently in the process of development. Any product sections in the template that are not currently in use are automatically updated, so the latest data will be available if the section is needed later in the development process. Any section already in use is updated selectively, to avoid making changes to a project without the user's knowledge and agreement. New paragraphs are automatically added to the template for possible selection, paragraphs that have been updated are replaced if they are not currently in use, and paragraphs deleted from the master template are removed if they are not currently in use. However, if any updated or deleted paragraph is currently being used in a project, the paragraph is flagged in orange to highlight the availability of new text or is flagged in red to signal that the text is obsolete. Users can then right-click on the flagged paragraphs to see the recommended changes and can accept or reject them one at a time. There are also new global options that allow users to accept all changes flagged orange, all changes flagged red, or none of the proposed changes.



In announcing this most recent improvement to updating master specifications, Robert Paul Dean, FAIA, the president of BSD, said "We have always provided the most up-to-date construction specifications available anywhere, but the latest release of BSD SpecLink-E takes updating to a whole new level -- architects and engineers can now have complete confidence that their project specifications are as current as it is possible to be."



About BSD:Â  Building Systems Design has offered innovative software tools for the architecture, architectural engineering, and construction markets since 1983. The company creates and supports advanced cost estimating, specification writing, and interoperability products that are used for over 12,000 commercial, institutional, and industrial projects annually. BSD was acquired by The Construction Specifications Institute (CSI) in 2010. www.bsdsoftlink.com.



Contact:

Robert Epstein

Building Systems Design, Inc.

888-273-7638

www.bsdsoftlink.com