Constant Voltage Dimming Drivers deliver 60 W to LED.
Press Release Summary: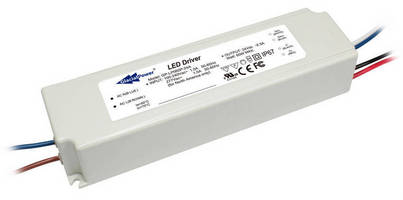 Delivering up to 60 W of power to LED with respective output voltages of 12 and 24 Vdc, GP-LP060P-12AV and -24AV are designed for LED light bars, soft strips, and DC lamps. Each includes 3-in-1 dimmable (1–10 V/PWM/resistor) and active PFC (Power Factor Correction) function, and power conversion efficiency rate reaches 87%. IP67-rated constant voltage dimming drivers also have universal 90–305 Vac input and fully isolated case design that enables -20 to +50°C operation.
---
Original Press Release:

GlacialPower Announces New 12V/24V LED Constant Voltage Dimming Drivers



Two New Drivers for up to 60W LED Light Bars, Soft Strips and DC Lamps



NewDelhi, India – GlacialPower, a division of the Taiwanese technology manufacturer, GlacialTech Inc.,is pleased to announce two new GlacialPower LED constant voltage dimming drivers for lower voltage LED lights – GP-LP060P-12AV and GP-LP060P-24AV.



GP-LP060P LED drivers deliver up to 60W of power to the LED with an output voltage of either 12 V DC or 24V DC. The drivers also include a 3 in 1 dimmable (1-10V/PWM/Resistor) and Active PFC (Power Factor Correction) function. These two drivers have been designed for LED light bars, soft strips and DC lamps in places such as bars or restaurants, exhibitions or shows.



The dimming adjustment of the GP-LP060P LED drivers ranges from 10% to 100%, without a driver controller or DMX512 protocol. This makes the drivers cost-efficient options with comparable functionality. Further, the two LED drivers have a power conversion efficiency rate of up to 87%, which makes the drivers highly energy-efficient.



The fully isolated case design enables an operation temperature range of -20C to 50°C, which means that these LED drivers can be used in most environments. Additionally, with IP67 approval as well as four different protections: OverVoltage Protection (OVP), Over Current Protection (OCP), Short-Circuit Protection (SCP) and Over-Temperature Protection (OTP), these drivers are highly secure.



GlacialPower's R&D team has developed these LED drivers to eliminate the need for electronic transformers, aiming to provide more energy-saving and environmentally-friendly LED products. GlacialPower's LED driver technology is expected to lead a new trend in innovation and become an essential feature for all LED lighting products. GlacialPower will introduce further new constant voltage dimming LED drivers for the 100-150W LED segment in the second half of 2013.



Features

• Built-in 3 in 1 dimming design

• Built-in Active PFC (Power Factor Correction) function

• Universal AC input 90 ~ 305V AC

• High power conversion efficiency: up to 87%

• Operation temperature range: -20°C ~50°C

• Protection: OVP / OCP / SCP / OTP

• IP67 approved

• Fully isolated case

• Class 2 power supply unit


| | | |
| --- | --- | --- |
| Model No. | GP-LP060P-12AV | GP-LP060P-24AV |
| Output DC Voltage | 12V | 24V |
| Rated Current Range | 5A | 2.5A |
| Rated Max. Power | 60W | 60W |
| Ripple and Noise (Max.) | 0.3Vp-p | 0.3Vp-p |
| PWM Dimming Frequency | 200-500Hz | 200-500Hz |
| Voltage/ Tolerance | ±2% | ±2% |
| Efficiency at 230 V AC | 87% | 87% |
| Set up Time (Max.) With full load: | 1 sec at 230V AC, 2 sec at 115V AC | 1 sec at 230V AC, 2 sec at 115V AC |
| Input Voltage Range | 90 ~ 305V AC / 127 ~ 430V DC | 90 ~ 305V AC / 127 ~ 430V DC |
| Frequency Range | 47 Hz ~ 63 Hz | 47 Hz ~ 63 Hz |
| AC Current (Max.) | 1A at 115V AC, 0.5A at 230V AC | 1A at 115V AC, 0.5A at 230V AC |
| Power Factor With full load: | >0.95 at 115V AC, >0.9 at 230V AC | >0.95 at 115V AC, >0.9 at 230V AC |
| Inrush Current (Max.) | 60A at 230V AC | 60A at 230V AC |
| Leakage Current | <0.5mA at 240V AC | <0.5mA at 240V AC |



Read more about this new product in GlacialPower's website:

http://www.glacialpower.com/products/led-driver-PFC-CVdimming.htm



About GlacialPower

GlacialTech Inc., is a diversified provider of cooling, power supply, and PC enclosure solutions for consumer and industrial applications. Thanks to its strong relationships with LED semiconductor manufacturers as well as thermal, SMPS and engineering leaders worldwide, GlacialTech leverages world-class engineering, efficient manufacturing and materials of the highest quality to create market-leading products. Under the GlacialPower brand, GlacialTech provides drivers, battery chargers and open frame power supplies as well as other customized solutions. Please visit the company homepage at www.GlacialPower.com.



Media Contact

Meenakshi Lenka

Alliance PR

meenakshi@proalliancepr.com

More from Material Processing