Universal / Constant Velocity Joints
Constant Velocity Joint System reduces vehicle weight.
Press Release Summary: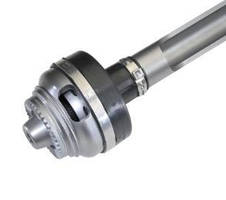 In addition to reducing rear-wheel-drive vehicle weight, VL3 can increase torque capacity without increasing package size. Available sizes also let automakers maintain torque capacity but reduce package size. With plunging distance of 18 mm, this rear constant-velocity sideshaft uses Monobloc Tubular Shaft and Face Spline connection to wheel hub as well as GKN CounterTrack™ principal. Other features include track geometry with 4 pairs of opposed ball tracks and diaphragm-boot sealing system.
---
Original Press Release:

All-New GKN Sideshaft System Debuts with Premium Automaker



AUBURN HILLS, Mich. -- GKN Driveline's new lightweight VL3 constant velocity joint (CV Joint) system, which enables rear-wheel-drive platforms to save more than 4kg of weight, has been selected by BMW to launch on the all-new 7 Series.



GKN's new VL3 CV joint increases torque capacity by up to 27 percent, with no increase in packaging size. Available in four sizes, automakers alternatively have the choice of maintaining torque capacity but reducing package size by approximately 10 percent.



Karl Berger, GKN Driveline Senior Director Product Technology of Constant Velocity Joints, said, "GKN already established the benchmark for rear CV Joints with our predecessor technology, but the VL3 sets the new level. We have developed a CVJ that is lighter, more efficient, and stronger and delivers more torque in smaller packaging.



"The VL3 joint helps automakers achieve a refined, luxury driving experience. We are delighted that it is debuting on the BMW 7 Series." 



With a plunging distance of 18mm, the VL3 is the best choice for a rear constant-velocity sideshaft for medium working angles with low axial forces and best-in-class minimum backlash. It uses a Monobloc Tubular Shaft and Face Spline connection to the wheel hub to achieve significant packaging and weight advantages, as well as noise, vibration and harshness (NVH) behaviour benefits. The result is a more refined driving experience.



GKN pioneered the highly-efficient CounterTrack(TM) principal on fixed joints starting in 2009, and the VL3 joint further builds on this success by introducing the technology on a rear sideshaft. The VL3 joint uses a new and innovative track geometry with four pairs of opposed ball tracks instead of three, which enables it to transmit more torque to wheels within the same packaging space. The joint is further enhanced through the use of a diaphragm-boot sealing system, instead of a standard boot and cap, which helps reduce axial packaging, grease volume and weight.



Berger added, "GKN has pioneered the development of CV joints for more than 60 years. These latest innovations offer improvements in every area of importance for automakers, including strength, endurance, efficiency and weight, helping to produce a dynamic driving performance and optimizing power delivery from the engine to the wheels. We have also minimized backlash, which leads to a refined driving experience."



The VL3 sideshaft system has recently been named as an Automotive News 2016 PACE Award finalist.



ABOUT GKN

GKN plc is a global engineering group. It has four divisions; GKN Aerospace, GKN Driveline, GKN Powder Metallurgy and GKN Land Systems, which operate in the aerospace, automotive and land systems markets. Over 55,000 people work in GKN companies and joint ventures in more than 30 countries. GKN is listed on the London Stock Exchange (LSE: GKN) and recorded sales of GBP7.5 billion ($10.7 billion) in the year to December 31, 2014.



ABOUT GKN DRIVELINE

GKN Driveline is the world's leading supplier of automotive driveline components and systems. As a global company serving the world's leading vehicle manufacturers, GKN Driveline develops, builds and supplies an extensive range of automotive driveline components - for use in the smallest ultra-low-cost car to the most sophisticated premium vehicle demanding the most complex driving dynamics. GKN Driveline is a leading global producer of CVJ Systems, AWD Systems, Trans Axle Solutions and eDrive Systems and operates in 22 countries at 45 locations, employing approximately 26,500 people.



CONTACT: Company Contact, Lori Petrelecan, Manager Marketing Communications, Americas, Tel: + 248 303 4991, Email: Lori.petrelecan@gkndriveline.com; Media Contact, Mike DeVilling, The DeVilling Group, Tel: + 248 875 4207, Email: Mjdevilling@outlook.com