Connectors and Prep Tools facilitate cable installation.
Press Release Summary: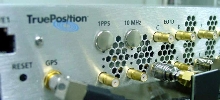 Designed for use with LMR-240 low loss cable, ST-240EZ tool prepares cable to exact dimensions in one step, while DBT-02 tool removes burrs from exposed center conductor. EZ non-solder connectors, which include QMA male, QMA male RA, SMA male, SMA male RA, and N male types, are supplied with adhesive-lined ATUM boot. Optimized to facilitate termination, all connectors are suited for use in True Position E911 installations.
---
Original Press Release:
EZ Style QMA, SMA and Type N Connectors and Cable Prep Tools for True Position E911 Installations

Available from Times Microwave Systems

Times Microwave Systems has recently introduced a series of EZ style connectors and cable prep tools for use with LMR-240 low loss cable. The ST-240EZ tool prepares the cable to the exact dimensions in one simple step while the DBT-02 tool removes the burrs from the exposed center conductor facilitating field installation of the EZ non-solder connectors. List price for the ST-240EZ (3190-1722) prep/strip tool is $51.00 while the list price for the DBT-02 (3190-1706) debur tool is $27.00. Both of these tools are available from stock.

The QMA male (3190-1533) has a list price of $10.50, the QMA male RA (3190-1539) has a list price of $13.00, the SMA male (3190-1530) has a list price of $7.50, the SMA male RA (3190-1536) has a list price of $10.00 and the N male (3190-1127) has a list price of $7.50. These are all EZ non-solder connectors, which are available for LMR-240 and widely used with True Position E911 installations. These connectors are rugged and have been optimized for ease of termination and have excellent electrical performance. Each connector is supplied with an adhesive lined ATUM boot and detailed termination instructions.

Times Microwave Systems, a Smiths Group plc company is the leader in the design and manufacture of coaxial cables for RF and microwave applications.

About Times Microwave Systems

Times Microwave Systems (TMS) was founded in 1948 and became part of Smiths Interconnect division in 1990. It has over 50 years experience in designing innovative, high-reliability, coaxial cables and assemblies for demanding interconnection problems. An engineering oriented organisation, the company specialises in the design and manufacture of high performance flexible and semi-rigid coaxial cable, connectors, and cable assemblies for RF transmission from HF through Microwave frequencies.

About Smiths Interconnect

Smiths Interconnect, a division of Smiths Group, is a global provider of electronic application specific components and sub-systems for the electronics interconnect, telecommunications, medical, industrial, aerospace as well as military and satellite markets worldwide.

Smiths Interconnect businesses comprise of; EMC Technology, Florida RF Labs, Hypertac Interconnect, LEA International, PolyPhaser, Radio Waves, Sabritec, Summitek Instruments, TECOM Industries, Times Microwave Systems, TRAK Microwave, Transtector Systems, Smiths Interconnect Shanghai and Smiths Interconnect Japan. Each business is a leader in its field and trades under their own strong brand name.

For further information:

Kevin Moyher: Product Manager, Times Microwave Systems

Tel.: +1 203 949 8447, Email: kmoyher@timesmicrowave.com

Stephanie Wnek: Marketing Coordinator, Times Microwave Systems

Tel.: +1 203 949 8429, Email: stephwnek@timesmicro.com
More from Software