Connector System eliminates wire stripping.
Press Release Summary: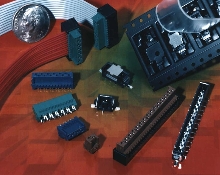 MTA-50 family of insulation displacement contact (IDC) style connectors have 0.050 in. contact centerlines in single, staggered row. This reduces board space for wire-to-board connectors while simplifying wire termination. Pre-loaded IDC contacts eliminate need for wire stripping and accommodate manual or semi-automatic assembly. Connectors are available in 2 to 28 contact positions and accept 26 to 30 AWG wire with 0.039 in. dia cable insulation.
---
Original Press Release:

MTA-50 Connector System Cuts Centerline Spacing In Half


HARRISBURG, Pa., March 21 - Tyco Electronics today introduced a new addition to the MTA family of insulation displacement contact style connectors, the MTA-50. MTA-50 connectors are a reduced centerline product with .050" contact centerlines in a single, staggered row. The miniaturized design reduces the board space requirements for many wire-to-board connector applications while simplifying wire termination with IDC contacts. The pre-loaded IDC contacts eliminate the need for wire stripping and accommodate manual or semi-automatic assembly. Applications for MTA-50 connectors can be found in electronic devices such as coin changers, vending machines, sensors, transducers, medical devices, appliances, and security electronics as well as other applications with board space limitations.

The MTA-50 connector system offers many of the features found in the MTA product family. Headers for the MTA-50 include right angle and vertical offerings with both styles available in through hole and surface mount configurations. Discrete wire or ribbon cable may be terminated with the MTA-50 and designers can select from feed-through or point-to-point wiring. A strain relief cover provides termination security and protects the wires after termination is complete. The MTA-50 is available in 2-28 contact positions and accepts 26-30 AWG wire with maximum cable insulation diameters of .039". The mating area of the copper alloy contacts is available with tin plating over nickel or gold plating over nickel. Contacts are rated for 30 VAC and up to 2 amps max per line.

Pricing for the MTA-050 averages $0.07 per mated line.

For more information on the MTA-50 IDC connector system, contact Tyco Electronics' technical support center at 1-800-522-6752 or send e-mail to newproducts@tycoelectronics.com. More information on the web at www.tycoelectronics.com

ABOUT TYCO ELECTRONICS
Tyco Electronics is one of the major business units of Tyco International (NYSE: TYC, LSE: TYI, BSE: TYC). Headquartered in Harrisburg, Pennsylvania, USA, Tyco Electronics is the world's largest passive electronic components manufacturer, and a world leader in cutting-edge wireless technologies, fiber optic active components, and complete power systems. The company has facilities located in 51 countries serving customers in the aerospace, automotive, computer, communications, consumer electronics, industrial and power industries. Tyco Electronics provides advanced technology products from over thirty well-known and respected product brands, including Agastat, Alcoswitch, AMP, AMP Netconnect, Buchanan, CoEv, Critchley, Elcon, Elo TouchSystems, HTS, M/A-COM, Madison Cable, OEG, Potter & Brumfield, Raychem, Schrack, Simel and TDI Batteries.

More from Machinery & Machining Tools