Connector saves space in IEEE 1394 applications.
Press Release Summary: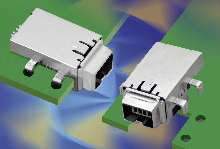 Model KMFS-SMT-130 features low-profile design that lowers height of connector above surface of printed circuit board, allowing board to be mounted in thinner chassis or closer to other components. Space saving is over 50% compared to both through-hole-mount and surface-mount technologies. Available with gold contact plating, connector is suited for set-top boxes, PDAs, computer laptop and desktop systems, as well as peripherals such as printers, scanners, and CD burners.
---
Original Press Release:
Space Saving, Low Profile IEEE 1394 Connector

San Jose, CA Kycon introduces a new innovation in 1394 IEEE connector design with the release of the low-profile connector.

Available in single, the KMFS-SMT-130 provides dramatic space-saving benefits to designers of set-top boxes, PDA's, computer laptop and desktop systems, as well as peripherals such as printers, scanners, and CD burners. The low-profile design lowers the height of the connector above the surface of the Printed Circuit Board, allowing for the PCB to be mounted in a thinner chassis or closer to the other components or PCBs. The KMFS-SMT-130 enables above the board space savings of up to 55% compared to through-hole mount technology and 53% compared to surface mount. This provides equipment designers with new opportunities for achieving lower-profile system designs with height reductions up to 3mm when using this new Kycon component.

The KMFS-SMT-130 meets the standard IEEE 1394 specifications and is available in 30µ" gold contact plating and in tape and reel.

CSA/C/US Certified File No. LR78160

Kycon, Inc. is an ISO 9001:2000 registered manufacturer of connectors and sockets. Headquartered in San Jose, California, Kycon has been serving the electronics manufacturing community since 1988.

We specialize in the production of a wide array of connectors, including D-subs, modular jacks, mini-dins, stereo jacks, USB connectors, IEEE 1394 sockets, dc power jacks, RCA jacks, high temperature connectors for reflow soldering, and ferrite connectors for EMI/RFI suppression. Kycon supplies to PC/peripheral, telecommunications, medical, industrial, and consumer markets worldwide.

More from Fluid & Gas Flow Equipment