Connectivity and DeviceNet(TM) Solution connects e-stop devices.
Press Release Summary: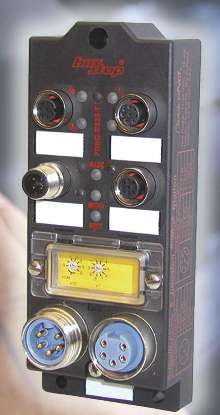 E-connect(TM) plug-and-work solution connects traditional e-stop devices and safety relay modules. Station operates in background to monitor where stop was initiated and annunciates system status. Able to be used on any DeviceNet system, product is available to connectorize 1, 2, and 8 e-stop devices. It isolates safety circuits form auxiliary power and DeviceNet communications circuits. E-stops can be initiated while bus or PLC are down.
---
Original Press Release:

E-connect(TM) Integrates DeviceNet and Emergency Stops


Deerfield Beach FL, ODVA 8th Annual General Meeting-October 1, 2002-InterlinkBT(TM) announces E-connect(TM), an integrated connectivity and DeviceNet(TM) solution for emergency stops.

E-connect(TM) is the new plug-and-work way to connect traditional e-stop devices and safety relay modules. E-connect(TM) DeviceNet stations operate in the background to monitor where the stop was initiated and annunciate the system status. The stations can be used on any DeviceNet system. They function along side other DeviceNet I/O. E-connect(TM) stations are available to connectorize 1, 2, and 8 e-stop devices. In addition to the stations is a complete line of cabling products in bright red to make safety-wiring standout.

E-connect(TM) DeviceNet stations do not impact the safety of the system. They are specifically designed to isolate the safety circuits form the auxiliary power and DeviceNet communications circuits. There is no technology learning curve, no special PLC, and no programming certification required. E-stops can be initiated even while the bus or PLC are down. Conversely, motion devices such as drives, steppers and servos are not abruptly powered-off just because the bus or the PLC stops functioning. E-connect(TM) is the plug-and-work e-stop for your DeviceNet network.

InterlinkBT is a leading supplier of advanced device level bus solutions to help manufacturers improve their automated processes, products and profits. InterlinkBT, 3000 Campus Drive, Minneapolis, MN 55441. Phone: 763-694-2300. FAX: 763-694-2399. For technical information, contact InterlinkBT Engineering Technology Dept., Toll-free: 888-546-5880. interlinkbt.com

More from Thermal & Heating Equipment