Connected Finger Pulse Oximeter works with iOS mobile app.
Press Release Summary: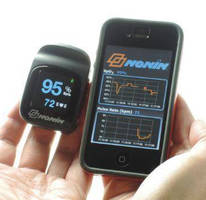 By measuring arterial blood oxygen saturation and pulse rate, NoninConnect™ Model 3230 helps clinicians and patients proactively identify issues for early intervention. PureSAT® pulse oximetry signal processing technology uses pulse-by-pulse filtering to achieve accuracy in Chronic Obstructive Pulmonary Disease (COPD) patients, while Bluetooth® Smart (low energy) wireless technology enables clinicians to remotely (up to 10 m) view patients' SpO
2
readings in real-time.
---
Original Press Release:

Nonin Medical® Launches Apple® iOS®-compatible NoninConnect(TM) Wireless Finger Pulse Oximeter Internationally



Nonin SpO(2) accuracy and Bluetooth® Smart connectivity help patients and clinicians manage COPD



MINNEAPOLIS – Nonin Medical, Inc., the inventor of finger pulse oximetry and a leader in noninvasive medical monitoring, today announced it has launched the NoninConnect™ Model 3230 Bluetooth® Smart wireless finger pulse oximeter and Apple® iOS® mobile app to clinicians and patients outside of the United States.



The NoninConnect™ wireless finger pulse oximeter combines Nonin's proven PureSAT® pulse oximetry signal processing technology with state-of-the-art Bluetooth® Smart (low energy) wireless technology in an easy-to-use connected finger pulse oximeter that measures arterial blood oxygen saturation and pulse rate. The device helps clinicians and patients proactively identify issues for early intervention, helping to avoid re-hospitalization.



"Making the right decision for patients with respiratory conditions such as chronic obstructive pulmonary disease often depends on getting accurate oxygen saturation readings," said Rick Eagle, vice president of sales, Nonin Medical.



"Unlike many low-cost oximeters, Nonin Medical's clinically proven PureSAT® pulse oximetry technology uses pulse-by-pulse filtering to achieve accuracy in Chronic Obstructive Pulmonary Disease (COPD) patients who may be experiencing low pulse strength, poor circulation, labored breathing and frequent desaturations," Eagle said.



With NoninConnect™, clinicians can remotely (up to 10 meters) view their patients' SpO(2) readings in real time. Patients can easily monitor and share their SpO(2) data by downloading the NoninConnect™ iOS® mobile app on their compatible Apple® device. Compatible devices include: iPhone® 4S and newer, iPad® 3 and newer, all iPad® Air and iPad® Minis, and the iPod® Touch 5th edition and newer (with Apple® iOS® 8.1 or newer installed).



NoninConnect™ Model 3230 advantages include:

--  An easy-to-read, large, clear user-facing display

--  A long battery life - allows for up to 2,200 spot checks on two AAA batteries

--  Simplified wireless pairing to Bluetooth® Smart Ready Apple® iOS® devices

--  Nonin CorrectCheck™ Finger Placement Technology, which provides feedback via a digital display if user's finger is not placed correctly in the device

--  Nonin SmartPoint™ Capture and Send Technology, which automatically determines when a high-quality measurement is ready to be wirelessly transmitted



For more information about the NoninConnect™ Model 3230 Bluetooth® Smart wireless pulse oximeter, visit http://www.nonin.com/NoninConnect.



The NoninConnect™ pulse oximetry software application can be downloaded free from the App Store in the Apple iTunes Store.



About Nonin Medical, Inc.

Nonin Medical, Inc. invented the finger pulse oximeter and designs and manufactures noninvasive medical monitoring solutions that meet customers' technology needs today and tomorrow.



Headquartered in Plymouth, Minn., U.S., with an additional customer service center in Amsterdam, Netherlands, Nonin Medical sells its pulse and regional oximeters, capnographs, sensors and software to health professionals and consumers in more than 125 countries. The company also has more than 200 OEM partners worldwide.  For more information and to find a Nonin Medical representative near you, visit nonin.com.



CONTACT:

Melanie Stanek

Director, Corporate Relations

Nonin Medical, Inc.

+1-763-577-5514

melanie.stanek@nonin.com



Web Site: http://www.nonin.com

More from Explosives, Armaments, and Weaponry