Confocal Laser Scanning Microscope minimizes phototoxicity.
Press Release Summary: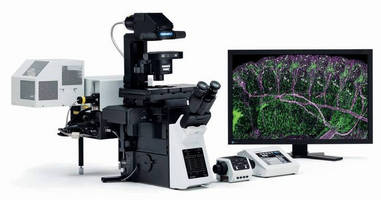 Suited for life science applications such as FRAP, FLIP, and photo-activation, FluoView FV1200 boosts sensitivity of laser scanning microscopy with living cells or unstable fluorophores. System combines accuracy of IX83 frame with fluorescence sensitivity and simultaneous laser stimulation of cells. Reflective, silver-coated galvanometer scanning mirrors and dual-channel GaAsP FluoView PMT module maximize light transfer and detection, allowing for laser power reduction.
---
Original Press Release:

Confocal Imaging and Cellular Stimulation with Minimal Phototoxicity



The new Olympus FluoView FV1200 boosts the sensitivity of laser scanning microscopy with living cells or unstable fluorophores



Hamburg – Olympus has released the new FluoView FV1200 confocal laser scanning microscope, optimised for live cell imaging. The new system uniquely combines the accuracy of the newly engineered IX83 frame with enhanced fluorescence sensitivity and simultaneous laser stimulation of cells, making it ideal for advanced life science applications such as FRAP, FLIP and photo-activation. In particular, the new highly-reflective, silver-coated galvanometer scanning mirrors and dual channel GaAsP FluoView PMT module both act to maximise light transfer and detection. This allows for reduced laser power, protecting against the effects of photobleaching and phototoxicity.



The generation of insightful confocal imaging data from living cells depends on optimally balancing laser power and sensitivity to minimise the effects of phototoxicity and photobleaching. To meet this challenge, the FV1200 is designed to maximise sensitivity via a new dual channel GaAsP FluoView high sensitivity PMT module, which delivers up to 45% quantum efficiency. In addition, Peltier cooling reduces electrical noise by 80%, increasing signal to noise ratio.



The new high reflection silver coating on the galvanometer scanning mirrors of the FV1200 ensures durability along with improved reflection efficiency for excitation and emission paths, increasing light efficiency in the visible range by 5 - 15% and IR reflectance up to 22%. This allows for a decrease in laser power, while providing the same level of fluorescence sensitivity. In combination with the unique Olympus SIM scanner, which allows simultaneous illumination and stimulation, it is possible carry out advanced localisation experiments such as FRAP and FLIP, without fear of damaging cells.



Accurate confocal imaging also requires the upmost thermal and mechanical stability, as is provided by Olympus' new fully automated IX83 frame. To further improve accuracy, the Olympus Z-drift Compensation Unit maintains automatic precision focus without damaging cells, and uniquely offers both a 'one-shot' and a 'continuous' focus mode. In this way, even the longest time-lapse experiments will generate reliable and accurate results.



To maximize application flexibility, the FV1200 combines the GaAsP PMT with the high dynamic range of three standard multi-alkali PMTs. The new GaAsP module is also compatible with the FluoView FV1000, providing an opportunity to easily enhance the performance of the previous system. System operation is controlled via the new FluoView ASW Version 4.0 software, improving direct file access and analysis, and providing a common platform for both the FV1000 and FV1200.



Dr Buelent Peker, Product Manager at Olympus Microscopy Europa, commented: "Given the trend toward longer observation periods using living cells, the new FV1200 system meets the needs of researchers requiring reliable time lapse imaging in combination with highly accurate and sensitive fluorescence observations and simultaneous cellular stimulation. In this way, it enables researchers to obtain reliable data from living cells, while minimising the risk of causing death or triggering abnormal cellular behaviour."



Please contact:



Olympus:

Ralf Schäfer (Marketing Communications Manager Microscopy)

Olympus Europa Holding GmbH,

Hamburg, GER

Tel: +49 (0) 40 23773 5913

Fax: +49 (0) 40 23773 505 913

E-mail: microscopy@olympus-europa.com

Web: www.microscopy.olympus.eu



Text:

Victoria Coupe (Account Manager)

Alto Marketing,

Southampton, UK

Tel: +44 (0) 1489 557 672

Fax: +44 (0) 1489 559 246

E-mail: victoriac@alto-marketing.com

Web: www.alto-marketing.com



For Olympus in the USA, please contact:

Ilene Semiatin

Edge Communications Inc.

White Plains, NY 10605

1.914.684.0959

ilene@edge-comm.net

More from Chemicals & Gases