Configurable Thermocouple Dataloggers communicate over Wi-Fi.
Press Release Summary: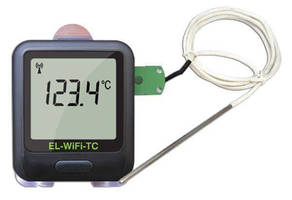 Able to send data over Wi-Fi® network, Lascar El-WiFi-TC dataloggers are supplied with K-type thermocouple probe with 0 to +400°C measurement range and ±1.5°C accuracy. Connection support also covers J/K/N/T thermocouple types for -270 to +1300°C measurement range. End-users can view real-time temperature data, which is continually monitored, using FilesThruTheAir™ Cloud storage service or integrated display. Fail-safe recording and logged data retention are standard.
---
Original Press Release:

Thermocouple Data Loggers Communicate over WiFi



Wireless Temperature Recorders with FREE Cloud Service!



CHESTERLAND OH – CAS DataLoggers offers the next generation of wireless temperature monitoring: the new WiFi Thermocouple Temperature Data Loggers from Lascar. These temperature recorders can connect to several thermocouple types to monitor a wide range of temperatures. The data loggers send all their data over the WiFi network to a PC without anyone having to travel to collect their readings. You can also view real time temperature data using Lascar's FREE Cloud storage service. Affordable for any business or organization, these wireless data loggers are ideal for many temperature monitoring applications including cold chain validation, medical monitoring for refrigerators and freezers, HVAC system verification and more. Lascar products are the perfect way to send your data online at a low cost—give CAS DataLoggers a call today at (800) 956-4437 and see for yourself!



Lascar El-WiFi-TC data loggers are supplied with a K-type Thermocouple probe with a 0°C to 400°C measurement range and ±1.5°C accuracy. The logger supports connection with Thermocouple types J,K,N,and T for a measurement range of -270 to +1300°C (-454 to +2372°F), dependent on the probe type.



Just place the probe and the logger will continually monitor the temperature of the probe's environment. This ensures accurate readings by isolating the datalogger itself from the temperature being measured. The logger's integrated display shows its current readings, and users can choose to log in either Celcius or Fahrenheit. Users can also configure high and low temperature alarms which are given their own indicator on the display.



During configuration, the sensor searches for an existing wireless network while physically connected to the PC. Afterward users can place the logger anywhere within network range for reliable standalone operation. If the sensor temporarily loses network connection it will continue recording until it is able to communicate again with the PC application or cloud service (max 30 days at 10-second sample interval).



Logged data is retained if the battery goes flat (up to 500,000 readings). Additionally, the logger's already impressive sensor range can be increased if needed by using WiFi extenders.



Each low-powered datalogger operates on a rechargeable internal lithium polymer battery which can be quickly recharged via a PC or USB +5V wall adapter using the included USB lead. Data is streamed over any WiFi network and can be viewed on a PC using the downloadable FREE EasyLog control software for Lascar WiFi series loggers. This intuitive software is compatible with 32-bit and 64-bit versions of Windows XP, Vista and 7. After installation on a PC, the software enables set-up, data logging and data review. It's easy to configure the logger, view historic data via the graphing tool, and export to Excel.



Lascar's FilesThruTheAir™ Cloud service is compatible with Lascar's entire range of EL-WiFi data loggers. The data logger's sensor automatically collects data while the WiFi router sends it to the cloud for storage. It's easy for users to do a temperature check on multiple platforms and devices—you can view data and configure Lascar WiFi dataloggers from your smartphone, tablet or PC!



With FilesThruTheAir™ you can:

• Store Data Online

• Receive Email Alerts

• View Data on Your Mobile Device

• Monitor Multiple Sites

• Grant Multiple Users Secure Access



If you need to send data online without investing a lot of time or money, FilesThruTheAir is the perfect solution!



To learn more about Lascar WiFi Thermocouple Temperature Data Loggers, or to find the ideal solution for your application-specific needs, contact a CAS Data Logger Applications Specialist at (800) 956-4437 or visit the website at www.DataLoggerInc.com.



Contact Information:

CAS DataLoggers, Inc.

12628 Chillicothe Road

Chesterland, Ohio 44026

(440) 729-2570

(800) 956-4437

sales@dataloggerinc.com

www.dataloggerinc.com

Related