Cone Valve Discharger handles intermediate bulk containers.
Press Release Summary: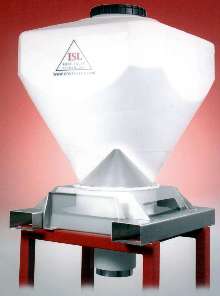 IBC (intermediate bulk container) system safely and hygienically discharges material into mixing, packaging, screening, and conveying processes. Able to accurately control discharge for rate or batch, system includes ISL Discharge Station with dust-tight seal and 1 or more IBCs fitted with ISL, double-sealed Cone Valve. IBCs are available in various sizes constructed of stainless steel or polyethylene. Lift height, frequency, and amplitude can be controlled/adjusted.
---
Original Press Release:
New Cone Valve Discharger Provides Hygienic Powder Processing Solution for Handling Intermediate Bulk Containers

Contact: Andy Nix
PH: 803.324.7715
Email: islusa@conevalve.com

For Immediate Release
October 23, 2002

ROCK HILL, SC---ISL Cone Valve Technology, a manufacturer of powder handling equipment, introduces its IBC (intermediate bulk container) system to safely and hygienically discharge material into processes such as mixing, packaging, screening and conveying. The discharge can be accurately controlled for rate or batch.

The system includes an ISL Discharge Station and one or more IBCs fitted with an ISL Cone Valve. The ISL Cone Valve is double sealed to prevent tipping or leaking during transport and can be easily secured for tumble blending. IBCs are available in various sizes constructed in stainless steel or polyethylene for pharmaceutical, food and chemical applications.

The dust tight seal on the discharge station isolates the operator and environment from process contamination and is maintained during the IBC loading or unloading. Only low-pressure plant air supply is required to lift the valve into the IBC creating an annulus aperture for material to flow without segregating or bridging. The lift height can be continuously controlled or adjusted for desired flow rates. Frequency and amplitude also can be controlled or adjusted to accommodate all types of materials. The discharge station can be dismantled by one operator without tools, cleaned and reassembled in minutes.

About ISL Cone Valve

ISL Cone Valve is an international manufacturer of powder handling equipment with offices in North America, Europe and Asia. The company, founded by Ivan Semenenko, manufactures a variety of Cone Valve equipment and accompanying products such as discharge frames, hopper stations and flow aids.

For more information about the ISL Discharging System, contact ISL Cone Valve North America at: 803.324.7715 or email: islusa@conevalve.com. The company can be seen on the Internet at: www.conevalve.com.

Kevin Nichols, Stark & Associates, Inc.

801 E. Morehead St., Ste. 305, Charlotte, NC 28202

PH: 704.332.5004, FAX: 704.332.3771

Email: kn@StarkPR.com


More from Machinery & Machining Tools