Conduit Outlet Bodies feature 4 protective layers.
Press Release Summary: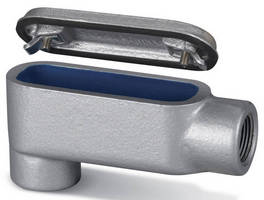 T&B® Fittings BlueKote® Form 7 and Form 8 Conduit Outlet Bodies feature interior BlueKote finish, which creates smooth surface that facilitates wire pulling and prevents wire damage while also protecting against corrosion. Other features include zinc electroplating, which protects cast-iron body from rust and rust creep; baked-on epoxy powder coating that is scratch resistant and tolerates harsh chemical exposure; and baked-on epoxy paint that provides additional corrosion resistance.
---
Original Press Release:

T&B® Fittings Form 7 and Form 8 Conduit Outlet Bodies with BlueKote® Finish Facilitate Wire Pulling, Resist Corrosion



New T&B® Fittings Products from Thomas & Betts Feature Multiple Protective Layers

MEMPHIS, Tenn. - T&B® Fittings Form 7 and Form 8 Conduit Outlet Bodies from Thomas & Betts feature the interior BlueKote® finish, which creates a smooth surface that facilitates wire pulling and prevents wire damage, while also providing an additional layer of corrosion protection. The BlueKote® finish is in addition to three layers of interior and exterior protective coatings, including two layers of epoxy.

"The BlueKote® finish makes the fitting's interior slick, so that less force is needed to pull wires," said Bogdan Diaconescu, product manager for Thomas & Betts. "This makes installation faster, and reduces the risk of strain on the installer."

BlueKote® Form 7 and Form 8 Conduit Outlet Bodies resist corrosion with three layers of protection:

1. Zinc electroplating, which protects the cast-iron body from rust and rust creep;

2. Baked-on epoxy powder coating, which penetrates the cracks and crevices of the body's surface, is scratch resistant and tolerates exposure to harsh chemicals;

3. Baked-on epoxy paint, the final exterior layer that provides additional corrosion resistance. The final, baked-on BlueKote® layer on the body's interior not only facilitates wire pulling, but also provides an additional layer of corrosion protection.

The multiple layers of protection enabled BlueKote® Form 7 and Form 8 Conduit Outlet Bodies to exceed industry standards for conduit outlet bodies in a five hundred-hour, five-percent salt-fog chamber test.

T&B Fittings® BlueKote® Form 7 Conduit Outlet Bodies also are available with pre-assembled covers and gaskets, which reduce inventory and minimize the risk of misplacing gaskets. For more information about T&B® Fittings BlueKote® Form 7 and Form 8 Conduit Outlet Bodies, visit www.tnb.com or call (888) 862-3289.

Thomas & Betts Corporation (NYSE: TNB) is a global leader in the design, manufacture and marketing of essential components used to manage the connection, distribution, transmission and reliability of electrical power in industrial, construction and utility applications. With a portfolio of more than 200,000 products marketed under more than 45 premium brand names, Thomas & Betts products are found wherever electricity is used. With headquarters in Memphis, Tenn., Thomas & Betts reported revenues of $2 billion and had approximately 8,750 employees in 2010. For more information, please visit www.tnb.com

More from Software