Conduit Body Features Double Coating for Enhanced Protection in Corrosive Environments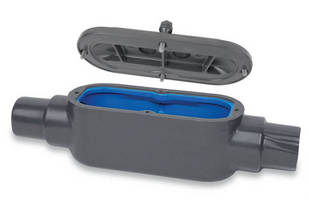 Thomas & Betts' OCAL-BLUE® Type 4X Form 8 Conduit Body Features New Design

MEMPHIS, Tenn. - The newly designed OCAL-BLUE® Type 4X Form 8 conduit bodies from Thomas & Betts offer double-coated exteriors for enhanced protection in corrosive environments, as well as extending the service life of the conduit bodies. The interior and exterior are coated with .002 inches (2 mils) of blue urethane and the exterior is coated with an additional minimum of .040 inches (40 mils) of injection-molded polyvinylchloride (PVC), providing a new solution for corrosion-resistant protection in harsh-environment applications, such as wash-down areas and outdoor applications exposed to rain, ice and snow.

The covers for OCAL-BLUE Type 4X Form 8 conduit bodies offer additional features, such as an integral O-ring seal on the cover that seals against the flat base. Another feature is the encapsulated stainless-steel cover screws that meet UL-listed Type 4X and NEMA 4X requirements with simple hand-tightening to 15 foot-pounds of torque; competitive products typically require 35 foot-pounds of torque. No tools or separate gaskets are needed.

"Double-coated OCAL-BLUE conduit bodies provide an added layer of corrosion protection in harsh environments found in water and wastewater treatment facilities, food and beverage processing facilities, oil and gas refineries, and mining operations," said Mark Nowak, Thomas & Betts product manager for Ocal® products. "An added benefit is the ability to meet UL and NEMA Type 4X requirements by simply hand-tightening the cover screws."

OCAL-BLUE Type 4X Form 8 conduit bodies are made from cast iron and are available in sizes from one-half inch to two inches. The PVC coating is available in grey or can be custom molded to a customer's specification. Covers are also sold separately for replacement.

For more information about OCAL-BLUE Type 4X Form 8 conduit bodies, visit www.tnb.com or contact Thomas & Betts at (800) 816-7809.

Thomas & Betts Corporation (www.tnb.com) is a leading designer and manufacturer of electrical components used in industrial, construction, communications and utility markets. The company is also a leading producer of commercial heating and ventilation units and highly engineered steel structures used for utility transmission. Headquartered in Memphis, Tenn., the company has manufacturing, distribution and office facilities worldwide.


More from Software