Conductive Silicones provide EMI/RFI shielding.
Press Release Summary: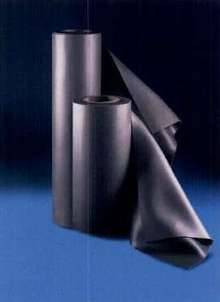 BISCO® EC-2000 Series Conductive Silicones are nickel-graphite filled materials offering compression-set, flame and corrosion resistance. They come in wide continuous roll goods in thicknesses from 0.020 to 0.125 in., making them suitable for replacing fabric-over-foam in intricately shaped applications. EC-2000 products fall in 30-40 Shore A durometer range and are suitable for base stations, cell phones, computers, antennas, and electronic devices.
---
Original Press Release:
Introducing Rogers BISCO® EC-2000 Series Silicones

** The ideal design choice in EMI/RFI Shielding Solutions **

Rogers, CT, September 6, 2002: Rogers Corporation (NYSE:ROG) is introducing Rogers BISCO® EC-2000 Series Conductive Silicones - the industry's first electrically conductive EMI/RFI shielding material available in wide, continuous rolls. These products are among the thinnest, softest materials being offered on the market
today. They have the additional features of excellent compression-set resistance, high shielding effectiveness, and easy processing to increase yields.

Recent trends in electronic design have brought electromagnetic interference (EMI) and its attendant shielding requirements to the forefront. The potential for interference has been greatly increased by the proliferation of electronic devices, miniaturization and portability of equipment, and developments in interconnect technology. The growing need for EMI gasketing is dictated by the trend towards increasingly higher operating
frequencies (and shorter wavelengths) that result in decreased tolerances for even the smallest of gaps, seams or slots in electronic equipment.

Within the wide array of EMI gasketing technologies available, the nickel-graphite filled EC-2000 Series Silicones stand out from the others. EC-2000 Silicones offer high design flexibility because they are softer and more compressible than similar products. This means that a good mechanical seal can be obtained through compression of the gasket. In addition, these conductive elastomer sheets offer the combined advantages of high shielding performance, good flame resistance characteristics and corrosion resistance.

The EC-2000 Series Silicones also distinguish themselves from similar products on the market in that they are available as wide continuous roll goods, making processing easier and more economical. This is a significant advantage for fabricators and
converters as well as for OEMs. From a converter's perspective, not only do continuous roll goods afford the use of more efficient converting processes, they also eliminate the
need for seaming molded sheets. This leads to better yields (lower scrap), which results in lower cost. Because these products may be easily die cut and delivered, they offer
additional design versatility and decreased time to market for OEM designers.

The combination of extreme softness, availability in wide, continuous roll goods, very high shielding effectiveness, high compression-set resistance, and their availability in thin cross sections (down to 0.020") makes it possible for BISCO EC-2000 Series Silicones to replace fabric-over-foam in many thin, intricately shaped applications. EC-2000 products fall in the 30-40 Shore A durometer range, and provide a range of thicknesses from 0.020" to 0.125" (0.50 to 3.18mm).

Rogers BISCO EC-2000 Series Silicones provide the ideal shielding solution for applications including base stations, cell phones, computers, antennas, electronic devices, appliances, and medical and analytical/diagnostic equipment. BISCO is a licensed trademark of Rogers Corporation.

Rogers Corporation, headquartered in Rogers, CT, U.S.A., develops and manufactures high performance specialty materials focusing on the wireless communications and computer markets. Rogers operates manufacturing facilities in Connecticut, Arizona, and Illinois in the U.S. and in Ghent, Belgium. Sales offices are located in Japan, Hong Kong, China, Taiwan, Korea and Singapore. Rogers has joint ventures in Japan with Inoac
Corporation, in Taiwan with Chang Chun Plastics, and in the U.S. with Mitsui Chemicals and with 3M Corporation.

Contact Rogers Corporation at 800/237-2068 for more information.


More from Electronic Components & Devices