Conductive Die Attach Films suit leadframe applications.
Press Release Summary: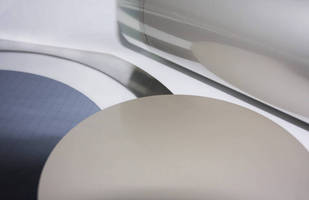 Ablestik C100 series conductive die attach films include Ablestik C130 formulation with 30 micron thickness and Ablestik C115 with 15 micron thickness. Suitable for use with die sizes ranging from 1 x 1 mm up to 6 x 6 mm for package types including QFNs and QFPs, films provide optimal wetting ability with lower bonding temperature for stable adhesion strength. This enables adhesion against moisture and MSL Level 2 performance on all leadframe surface finishes.
---
Original Press Release:

Henkel Launches Conductive Die Attach Film; Enables Process Advances for Leadframe Applications



Irvine, California - The latest in a series of recent materials innovation successes, Henkel Electronics today announced the development and commercial availability of its Ablestik C100 series conductive die attach films. With relatively few, if any, conductive die attach films on the market until now, the launch of this material advance effectively establishes the benchmark for conductive die attach film solutions.

Available in two formulations, - Ablestik C130 and Ablestik C115 supplied in 30 micron and 15 micron thicknesses, respectively - Henkel's conductive die attach films now enable leadframe package manufacturers to realize the advantages film-based products have over traditional paste die attach products. Among the established benefits are the elimination of die tilt, the ability to process thinner die and facilitation of greater bondline control - all of which allow for improved processability, higher yields and better long-term reliability.

"The development of Ablestik C100 die attach films is a huge leap forward for the leadframe package sector," explains Kevin Becker, Henkel Director of Product Development for Film Die Attach Adhesives. "Film simply provides incomparable process control and reliability- and now those advantages are no longer limited to non-conductive processes, but are available for applications that require conductive materials as well."

Ablestik C100 series film die attach materials also provide a high degree of manufacturing latitude, as their workability has been established on die sizes ranging from 1mm x 1mm up to 6mm x 6mm for a variety of package types including both QFNs and QFPs. In addition, the materials' better wetting ability with lower bonding temperature provides extremely stable adhesion strength, allowing robust adhesion against moisture and MSL Level 2 performance on all leadframe surface finishes.

"As wafers continue to get thinner, leadframe packaging specialists will require die attach film alternatives to provide processing support and stability," concludes Becker. "Ablestik C100 materials deliver this essential process control element in combination with a bevy of other advantages. These conductive films are truly game-changing."

For more information on Henkel's Ablestik C130 or Ablestik C115, please call 714-368-8000 or log onto www.henkel.com/electronics.

Except as otherwise noted, all marks used herewith are trademarks and/or registered trademarks of Henkel and/or its affiliates in the US and elsewhere.

About Henkel

Henkel operates worldwide with leading brands and technologies in three business areas: Laundry & Home Care, Cosmetics/Toiletries, and Adhesive Technologies. Founded in 1876, Henkel holds globally leading market positions both in the consumer and industrial businesses with well-known brands such as Persil, Schwarzkopf and Loctite. Henkel employs about 48,000 people and reported sales of $20.07 billion and adjusted operating profit of $2.27 billion in fiscal 2010. Henkel's preferred shares are listed in the German stock index DAX and the company ranks among the Fortune Global 500.

Contact

Henkel Electronic Materials LLC

Doug Dixon

doug.dixon@us.henkel.com

Phone: 714-368-8000

Fax: 714-368-2265

www.henkel.com/electronics

More from Electrical Equipment & Systems