Industrial / Specific Purpose Computers
Conduction-Cooled CompactPCI Board/GbE Switch have rugged design.
Press Release Summary: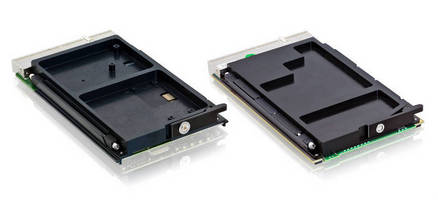 CompactPCI board CP3002-RC features 2.0 GHz Intel Core i7-620LE processor and Intel QM57 Platform Controller Hub. Up to 8 GB of DDR3 1,066 MHz ECC memory, up to 32 GB of NAND Flash, and high-resolution graphics interface are included. Model CP3923-RC is layer 2/3 GbE switch with up to 16 GbE ports offering IPv4 routing. It includes CLI, Telnet, Web, and SNMP management interfaces. Both 3U boards help OEMs integrate COTS components and improve size, weight, and power of applications.
---
Original Press Release:

Kontron CP3002-RC and CP3923-RC Bring Intel Core i7 Performance and Advanced Networking to Mission Critical 3U CompactPCI Platforms



Rugged applications benefit from higher performance-per-watt ratio

Eching, Germany, EURONAVAL, Paris, MILCOM, San Jose -Parallel to the Military shows in Europe and North America, today Kontron introduced two conduction-cooled 3U CompactPCI boards for mission critical, data intensive, and network-centric platforms. The conduction-cooled Kontron processor board CP3002-RC with integrated graphics based on the latest Intel Core i7 mobile processor technology and the conduction-cooled Kontron Gigabit Ethernet Switch CP3923-RC with Layer 2/3 Gigabit Ethernet (GbE) switching and full IPv4/v6 management capabilities. Both boards help OEMs and system integrators improve the Size, Weight and Power (SWaP) of their applications with easy to implement COTS components.

Based on the latest, highly integrated silicon offering high performance and a comprehensive feature set the new Kontron 3U CompactPCI boards are the ideal fit for a wide range of new real-time, data intensive and network-centric applications in military, aerospace, transportation and other sectors that require reliable performance in harsh environments. The Rugged Conduction-Cooled (RC) 3U CompactPCI boards support operational temperatures ranging from -40 °C to +85 °C according to ANSI/VITA 47 temperature class CC4 and can withstand shock and vibration according to ANSI/VITA 47 classes V3 and OS2.

Kontron 3U Compact PCI processor board CP3002-RC

With the low voltage (LV) 2.0 GHz Intel Core i7-620LE processor and the Intel QM57 Platform Controller Hub, the Kontron 3U CompactPCI processor board CP3002-RC not only speeds up multiprocessing tasks via hyper-threading technology (HTT), but also processes single-threaded tasks much faster thanks to the new Intel Turbo Boost technology. This will automatically overclock the CPU without exceeding the defined thermal design power (TDP) of 25 Watt and without the need to oversize the entire system for peak loads. Up to 8 GB of soldered DDR3 1066 MHz ECC (error-correcting code) memory ensures data accuracy for demanding mission-critical and safety-critical applications. Network centric applications benefit from the four Gigabit Ethernet ports, increasing data throughput for system intra- and inter-connection.

"The Kontron CP3002-RC's highly-integrated Intel Core i7 architecture allows for an overall performance increase of 30 to 60% and twice the graphics performance compared to previous processor platforms in 3U CompactPCI", says Sandra Korsinek, Product Manager for 3U CompactPCI at Kontron. "In combination with the new powerful Kontron CP3923-RC advanced switch there is an unbeatable powerful pair for 3U CompactPCI designs. Furthermore, their rugged conduction cooled design allows for completely enclosed systems and protects the components from environmental influences such as shock and vibration most efficiently."

The Kontron CP3002-RC is configured with up to 32GB of NAND Flash for locally hosted operating systems and application software. Additionally, two Serial ATA (SATA) interfaces allow for off-board storage. For maximum application flexibility, the Kontron 3U CompactPCI processor board CP3002-RC offers a rich set of I/O via its rear connectors. In addition to the CompactPCI Bus and one high-resolution graphics interfaces (VGA), it provides two USB 2.0 ports, two serial ports and eight general purpose signals (five inputs plus three outputs). Safety and security of the platform is enhanced via an optional Trusted Platform Module (TPM) 1.2 allowing for secure hardware encryption of all transferred data. The CP3002-RC's Wake on LAN (WoL) feature allows the board to save energy when not in operation and then to be woken up from suspense state.

The Kontron CompactPCI processor board CP3002-RC runs with VxWorks 6.8, WindRiver Linux, Linux (RedHat), Microsoft Windows XP, Windows 7, Windows Embedded Standard 7, Windows Server 2003 or 2008. Support for other operating systems is available upon request. Samples of the Kontron CP3002-RC are available now. Full production is scheduled for January 2011. For evaluation and application development a rugged air-cooled version - the Kontron CP3002-RA - with a heatsink optimized for forced air cooling is additionally available. An appropriate 3U CompactPCI evaluation system is available as well, to speed up application development.

Kontron 3U CompactPCI Gigabit Ethernet Switch CP3923-RC

The Kontron Gigabit Ethernet Switch CP3923-RC is a fully managed Layer 2/3 Gigabit Ethernet (GbE) switch with up to 16 Gigabit Ethernet ports offering IPv4 routing and optional IPv6 routing as well as full management capabilities. It supports powerful CLI, Telnet, Web and SNMP management interfaces to configure the entire set of protocols and parameters including Layer 2 and Layer 3 (IPv4/v6) protocols, Multicasting, QoS, and Security. For applications requiring higher bandwidth, it also supports link aggregation. The Kontron CP3923 also maximizes the reliability of rugged COTS applications by supporting Intelligent Platform Management (IPMI) and hot-swap capabilities. Samples of the Kontron Gigabit Ethernet Switch CP3923-RC will be available in January 2011 and full production is scheduled for Q2 2011.

For more information on the Kontron 3U CompactPCI processor board CP3002-RC, please visit:
http://www.kontron.com/products/boards+and+mezzanines/3u+compactpci/x86+processor/cp3002rc++cp3002ra.html

For more information on the Kontron 3U CompactPCI Gigabit Ethernet switch CP3923-RC, please visit: www.kontron.com/products/boards+and+mezzanines/3u+compactpci/network/cp3923.html

For more information on CompactPCI, please visit:
http://kontron.com/technologies/compactpci/com/cpci

About Kontron

Kontron designs and manufactures embedded and communications standards-based, rugged COTS and custom solutions for OEMs, systems integrators, and application providers in a variety of markets. Kontron engineering and manufacturing facilities, located throughout Europe, North America, and Asia-Pacific, work together with streamlined global sales and support services to help customers reduce their time-to-market and gain a competitive advantage. Kontron's diverse product portfolio includes: boards & mezzanines, Computer-on-Modules, HMIs & displays, systems & platforms, and rugged & custom capabilities. Kontron is a Premier member of the Intel® Embedded Alliance and has been a VDC Platinum Vendor for Embedded Computer Boards 5 years running. Kontron is listed on the German TecDAX stock exchange under the symbol "KBC". For more information, please visit: www.kontron.com

EMEA

Norbert Hauser

Kontron

Tel: +49 (8341) 803-0

norbert.hauser@kontron.com

Michael Hennen

SAMS Network

Tel: +49 (2405) 45267-20

michael.hennen@samsnetwork.com

Americas

Richard Pugnier

Kontron

Tel:+1 (858) 623-3006

richard.pugnier@us.kontron.com

APAC

Richard Pugnier

Kontron

Tel:+1 (858) 623-3006

richard.pugnier@us.kontron.com

Michael Hennen

SAMS Network

Tel: +49 (2405) 45267-20

michael.hennen@samsnetwork.com

All rights reserved.

Kontron is a trademark or registered trademark of Kontron AG.

Intel®and Intel®Core(TM)are trademarks of Intel®Corporation in the US and other countries.

PICMG® and CompactPCI® are trademarks of the PCI Industrial Computers Manufacturers Group.

All other brand or product names are trademarks or registered trademarks or copyrights by their respective owners and are

More from Construction Equipment and Supplies