Condry Vacuum Dryer meets cGMP and FDA standards.
Press Release Summary: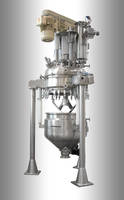 Featuring teethed agitator arm profile, Condry Vacuum Dryer is designed with conical bottom section for easy material discharge. Suitable in Chemical processes, Pharmaceutical applications, product avoids excessive pressure and eliminates damage to crystal structure. Reducing overall drying times, unit's design enables dynamic heat transfer.
---
Original Press Release:
Condry
The Condry® agitated vacuum dryer has been developed to process a wide variety of materials. The Condry is particularly suited for the drying of materials with fragile crystal structure or are heat sensitive.
The Condry is designed with a conical bottom section to provide superior discharging of the material, it has a unique agitator arm profile with "teeth" to avoid excessive pressure being applied to the material that eliminates damage to the crystal structure.
The agitator design also provides very large surface area which can also be heated that provides "Dynamic" heat transfer within the batch itself, greatly reducing overall drying times.
The Condry provides maximum versatility, can meet the most demanding applications in Pharmaceutical and Chemical processes, and meets all relevant cGMP and FDA requirements.
Alan Ferraro
President
Heinkel Drying and Separation Group
520 Sharptown Rd. Swedesboro NJ 08085
Phone: 856-241-9970
Fax: 856-241-9975
url: http://www.heinkelusa.com/
email: [email protected]