Condition Monitoring System enhances plant awareness.
Press Release Summary: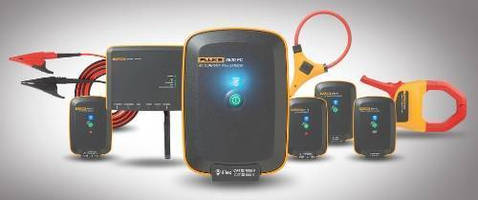 Installed within minutes, Fluke Condition Monitoring provides voltage, current, temperature, and power sensors that can be moved between assets or left in place for continuous monitoring. Scalable solution delivers continuous data and alarms, viewable via Fluke Connect® Condition Monitoring software on smartphone or Web browser, needed to prevent equipment downtime. Along with wireless sensors, features include gateway with 30 ft range and cloud-based software for measurement recording.
---
Original Press Release:
Catch a first look of Fluke Condition Monitoring at WEFTEC 2016
New portable system of sensors, gateway, and software installs in a matter of minutes, delivers continuous data and alarms to prevent equipment downtime

EVERETT, Wash. -- Water treatment system managers and technicians will get a first look at the new Fluke Condition Monitoring system at the 89th Annual Water Environment Federation Technical Exhibition and Conference (WEFTEC) to be held at the New Orleans Morial Convention Center, September 24-28. Fluke will be showing Fluke Condition Monitoring and an assortment of Fluke Connect wireless test tools for hands-on evaluations at booth 8320.

Monitoring plant equipment is crucial to avoiding costly downtime, but it is often too expensive, impractical, or complicated to capture performance data from all critical assets. Fluke Condition Monitoring solves these problems with a new system of rugged voltage, current, temperature, and power sensors that can be moved from asset to asset or left in place for continuous monitoring. With Fluke Condition Monitoring, maintenance managers get a practical, scalable system that delivers the continuous data and alarms they need to prevent equipment downtime. With Fluke Condition Monitoring managers can begin realizing a return on investment almost immediately.

The Fluke Condition Monitoring system consists of wireless sensors, a gateway that can receive signals from the sensors up to 30 feet away, and familiar Fluke technologies, such as iFlex® current probes, current clamps, and temperature sensors. The system can be set up by maintenance technicians and monitoring can begin in a matter of minutes. The sensors send measurements to the cloud-based software, 24 hours a day with each sensor sending as frequently as one measurement per second — up to 86,400 measurements a day — to capture difficult to diagnose intermittent events. Equipment data and alarm notifications are viewed through Fluke Connect® Condition Monitoring software on a smartphone or web browser.

"Fluke customers who have previewed Fluke Conditioning Monitoring are excited about the benefits the system brings by easily monitoring equipment around the clock to troubleshoot intermittent issues," said John Neeley, director and chief architect, Fluke Connect. "Because all the readings go through Wi-Fi to the cloud, technicians and managers can monitor equipment wherever they are, eliminating the need to staff equipment."

Fluke Condition Monitoring is available for pre-order now and will be launched later in 2016. For more information on Fluke Condition Monitoring, stop by the Fluke WEFTEC booth #8320, watch video, or visit www.fluke.com/conditionmonitoring.

Fluke Corporation
For information on Fluke tools and applications, or to find the location of a distributor, contact Fluke Corporation, P.O. Box 9090, Everett, WA USA 98206, call (800) 44-FLUKE (800-443-5853), fax (425) 446-5116, e-mail [email protected] or visit the Fluke Web site at www.fluke.com.

About Fluke
Founded in 1948, Fluke Corporation is the world leader in compact, professional electronic test tools and software for measuring and condition monitoring. Fluke customers are technicians, engineers, electricians, maintenance managers, and metrologists who install, troubleshoot, and maintain industrial, electrical, and electronic equipment and calibration processes.

Fluke is a registered trademark of Fluke Corporation. The names of actual companies and products mentioned herein may be the trademarks of their respective owners. For more information, visit the Fluke website.

For more information:
Dan Wright
Communications Manager
(425) 446-5638
[email protected]