Concrete Repair System simplifies crack injection process.
Press Release Summary: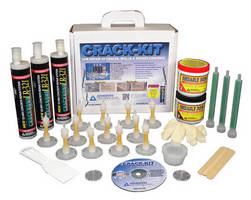 Crack-Kit provides everything needed to complete application that requires crack injection: Crackbond LR-321 Injection Resin, Miracle bond Capping Paste, plastic putty knife, nozzles, flow restrictors, tongue depressors, latex gloves, and mixing cups. While 12 flexible T-Ports (included) feature latex storage pod that delivers constant injection pressure and indicates if more injection is required, Observation Windows help users view and confirm flow of resin within injected crack.
---
Original Press Release:

New and Improved Crack-Kit



Simplifying the Crack Injection Process



Pompano Beach, Florida - Adhesives Technology Corp (ATC) has greatly enhanced its popular crack injection and concrete repair system called the Crack-Kit. Just like before, the Crack-Kit has everything you need to complete an application that requires crack injection. These items include our Crackbond LR-321 Injection Resin, Miracle bond Capping Paste, 12 T-Ports, plastic putty knife, nozzles, observation windows, flow restrictors, tongue depressors, latex gloves and mixing cups.



The new and improved, patented T-Ports and Observation Windows offer many new benefits that help to make the process that much easier and effective. The T-Port has a latex storage pod the delivers constant injection pressure and indicates if more injection is required. The flexible T-Port absorbs disturbances during installation helping to eliminate reattaching of the ports. The T-Port also has a leak free, direct port to nozzle connection, which keeps epoxy resin in while allowing air and water to escape. In the past, installers would have to guess whether or not the resin was flowing through the crack.



With the new Observation Windows, it's easy to view and confirm the flow of resin within the injected crack. In addition to crack injection, the Crack-Kit is also great for other applications such as concrete crack and spall repair, bonding, patching, a primer for industrial coatings, epoxy grouting and repairing rotted wood, loose railings broken steps and much more! Click here, to see our crack injection instructional video on YouTube.



Since the early 70's, ATC has been a leading U.S. manufacturer and R & D facility specializing in epoxies, acrylics, ester blends and polyureas for the construction and repair markets. We supply our distributors and private label clients with proven products for anchoring, doweling, bonding, joint filling, concrete repair, maintenance/restoration and other specialty applications. From heavy duty construction needs to everyday household repair we have the solutions to keep it together.



For more information, call:1.800.892.1880



For more information on our products and private label services: visit us

http://www.atc.ws and www.privatelabeladhesives.com



Like us on Facebook: http://www.facebook.com/AdhesivesTechnology

More from Electrical Equipment & Systems