Concealed Hinges control motion and position objects.
Press Release Summary: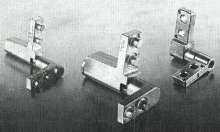 Utilizing C-shaped clips that grip hardened steel shaft, hinges provide constant torque throughout full range of motion. With housings and connecting flanges precision cast from zinc, products deliver useful life of 25,000 cycles with no backlash and typical spring-back of less than 1°. Hinges with 5 and 7 mm outside housing diameters are available with consistent torque ratings from 1.7-5.2 lb-in., while 9 mm hinges are rated from 5.2-19.0 lb-in.
---
Original Press Release:

Reell's 5, 7, 9mm Concealed Constant-Torque Hinges Control Motion, Position Objects


A standard line of 5mm, 7mm and 9mm concealed-style constant-torque hinges from Reell Precision Manufacturing is available in a broad range of load capacities for controlling motion in applications that involve positioning an object. Widely employed for laptop computer screens, enclosures, office equipment, medical equipment, and automotive storage panels, these compact hinges are capable of providing up to 19 lb-in of constant torque throughout their full range of motion. Reell also designs and manufactures custom constant-torque friction hinges with up to 80 lb-in torque ratings.

The torque (or friction) is developed by Reell's patented clip technology that uses C-shaped clips to grip the hardened steel hinge shaft to provide a smooth, flowing feel and consistent torque over the life of the hinge. The amount of torque produced is proportional to the shaft diameter and the number of clips applied, and is constant throughout a 360-degree rotation.

The 5mm and 7mm hinges have outside housing diameters of 5mm and 7mm respectively, and are designed to provide smooth action and a quality feel. They are available with consistent torque ratings from 1.7 to 5.2 lb-in depending on the application. The 9mm hinge provides greater structural support and is available in torque ratings from 5.2 to 19.0 lb-in. The hinges deliver a useful life of 25,000 cycles with no backlash and a typical spring-back of less than 1 degree. Housings and connecting flanges are precision cast from zinc.

Reell Precision Manufacturing Corporation manufactures custom and standard wrap spring clutches, constant-torque hinges and precision-wound springs at facilities in St. Paul, MN and the Netherlands. In addition to paper handling equipment, the company's clutches are well suited for use in automotive, appliance and power tool applications. Its custom and standard constant-torque hinges are used in laptop computers, medical and office equipment, automobiles and enclosures. Reell's precision-wound springs find use in a wide variety of close-tolerance applications. For more information, contact: Rob Jackson, Reell Precision Manufacturing, 1259 Willow Lake Boulevard, St. Paul, MN 55110. Phone: 651-484-2447. Visit the company's web site at: www.reell.com.

More from Fluid & Gas Flow Equipment